Amble for Arthritis to help sufferers of the biggest cause of disability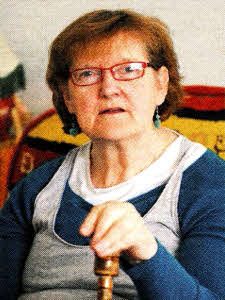 A GLENAVY woman is urging people to join her on an Amble for Arthritis on the Lagan Towpath later this month to raise much needed funds for the work of Arthritis Care.
Mary Brady (64) from Glenriver Park was diagnosed with arthritis in 1997, but believes she was suffering for many years before.
When she was younger she found herself falling clumsily, but it was while working at a nursing home that her falls became so frequent she feared she was becoming a danger to the patients.
For years she had been waking up with burning aches and pains in her back, knees, hands and foot. She took pain killers but knew the time had come to find out what was really wrong.
The doctor sent her for an x-ray at Musgrave Park Hospital where she was diagnosed with osteoarthritis.
"To be honest I was glad that was all it was," she said. "I feared there was something much worse that there was something wrong with my brain.
"Looking back I know the falls I had were related to arthritis. I went on holiday to Rostrevor once and really injured a nerve. In my teens I was working in a factory and injured the ball of my knee. I almost fainted. Looking back, I think all those injuries were linked to the arthritis."
Since she joined Arthritis Care Mary feels that her life has changed for the better. She takes part in in their Challenge for Arthritis courses that are run frequently.
She says that not only are they a great social network but give participants enough confidence to achieve things they would never have imagined possible.
From the course she has helped to decorate her bedroom and has even taken up yoga again, one of her favourite hobbies.
It takes £30 for each person to take part in the course - but we don't ask people for the money. Hopefully, the amble will encourage more people to join," she said.
Amble for Arthritis is being held on May 22 at the Lagan Towpath at 11.30am - during Arthritis Care Week which runs from May 24-30. It's one of a series of sponsored walks organised by Arthritis Care
to help promote walking as a way to ease the pain of the country's biggest single cause of physical disability and raise much needed funds to provide practical and emotional support for people with arthritis.
For more details about the Ambles and for sponsorship forms you can contact Marcus Cooper on 9078 2940 or email MarcusC@arthritiscare.org.uk For more information about Arthritis Care, visit www.arthritiscare.org.uk
mary.magee@ulsterstar.co.uk
Ulster Star
07/05/2010