Followers of fashion invited to help Tinylife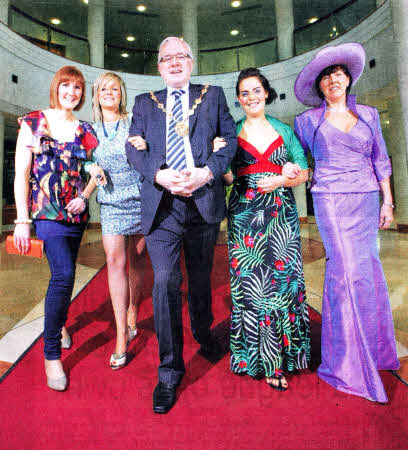 The Mayor of Lisburn, Councillor Allan Ewart recently launched the TinyLife Fashion Show to be held at Lagan Valley Island on April 15 2010. Pictured with the Mayor are some of the models who will be taking part in the fashion show 11-r1: Mrs Emma Givan; Mrs Samara Prentice; Mrs Lynne Givan and Mrs Florence Smyth.
A FASHION show has been organised to raise funds for the Mayor's charity Tinylife, Northern Ireland's premature and vulnerable baby charity. The Mayor of Lisburn, Councillor Allan Ewart, recently launched the show to be held at Lagan Valley Island on April 15.
Sarah Travers, BBC News Presenter and Patron of TinyLife, will compere the fashion show detailing the specifics of each outfit as it is modelled on the catwalk.
The fashions on the catwalk are from local retail outlets: Debonair, Editor, Part Two, Reflections Bridal, Sarah Rose and Vanilla. The models' hair will be styled by the Chocolate Hair Company and make up to complement the outfits is by Jeanette Kidd. Colour Analysis Consultation by Carolyn Jackson will be available on the evening. To complement the bridal fashions on show Lamont's Florists will be supplying the bridal floral arrangements.
Mr Ewart, said: "This is the first ever Fashion Show arranged by a Mayor of Lisburn in aid of charity. I hope that like other fundraising events the people of Lisburn will continue to support our efforts to raise funds for the worthwhile charity, TinyLife."
All Council initiated fundraising activities for the Mayor's charity are administered by the Mayor's Office allowing all funds raised to go directly to the charity.
The Mayor is hoping to see over 200 'followers of fashion' viewing the catwalk fashions on the night. Tickets cost £10 and are available from the Island Hall Box Office. During the interval light refreshments will be served and it will provide an opportunity for those present to browse at and buy designer products and treatments from Miglio Jewellery, Handbag Fairy and the Temple Spa. Bookings for the Fashion Show will be taken at the Island Hall Box Office on 028 9250 9254 or online at tickets.lisburncity@gov.uk.
Ulster Star
02/04/2010