Mayor launches emergency Haiti appeal
by MARY MAGEE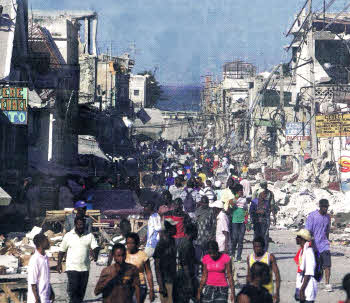 LISBURN City Council's Mayor, Councillor Allan Ewart has launched an Emergency Appeal to support the Haitian Relief Effort following the devastating earthquake that struck the country, last week.
The Council has partnered with International Charity 'Tearfund' to ensure that all donations can go quickly to where help is needed most. Donation boxes will be available in all Council facilities or alternatively money can be pledged directly online at www.tearfund.org.uk.
Councillor Ewart explained that he felt compelled to do something after seeing such pain, death and destruction, reported through the media.
"lt is horrifying beyond belief to imagine the devastation that this terribly poor Country is now facing," he said. "With reports of up to 200,000 people dead, thousands of children orphaned and so many more without food, shelter or hope the people of Haiti desperately needs the worlds help."
Tearfund and its partners have already teams enroute to Haiti to provide shelter, food and water in the first phase of this emergency response.
Tim Magowan, Director of Tearfund Northern Ireland, said: "It is often at times of huge disaster that we see the very best of people in Northern Ireland.
"All money raised will not only save lives in the short-term it will also improve lives in the future and on behalf of Tearfund I would like to thank the people of Lisburn for their' support."
Councillor Ewart said he was confident that people, would show their human compassion.
"If each one of us gave something, however small, the difference our City could make to the lives of many would be overwhelming," he said,
Ulster Star
22/01/2010