Mayor's Parade to celebrate 'Lagan Life'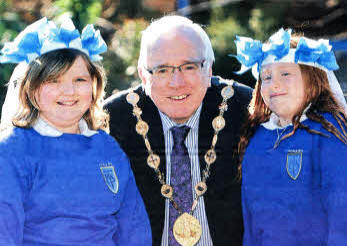 COMMUNITY and school groups across Lisburn are busy preparing for one of the city's biggest civic events — the Mayor's Carnival Parade.
The Island Arts Centre is co-ordinating a programme of carnival workshops for participating groups and participants are hard at work creating fabulous costumes and props to add to the colour and excitement of the day. This year's theme is 'Lagan Life' and the content of the parade will represent the heritage and natural environment of the River Lagan.
The Mayor, Councillor Allan Ewart, visited Tonagh Primary School to see how they were getting on creating colourful costumes to represent the linen industry and heritage of the River Lagan.
It is great to see so many local children and young people taking part in the parade again this year,' said the Mayor. "It is a fantastic experience for them and the workshop programme is a brilliant way to help build their excitement and enthusiasm in the run up to the big day.
"I am very much looking forward to seeing the full range of specially made costumes and props that our local school and community participants have been working on."
The Mayor's Parade will take place on Saturday May 8 leaving Lagan Valley Island at 1pm before working its way through the City, Centre. The Parade reaches its final destination at Wallace Park just before 2pm where the Family Fun Day will be in full swing throughout the afternoon with a host of family-friendly activities.
Ulster Star
12/03/2010