Foster and Allen to sing `million sellers' at the Island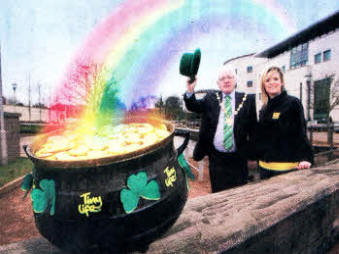 'IRISH musical duo Foster and Allen are coming to Lisburn's Lagan Valley Island to 'Sing the Million Sellers' at the Mayor's Charity Concert as part of the council's St. Patrick's celebrations.
The concert, on Thursday March 18, will showcase the famous singers Mick Foster and Tony Allen as they perform a collection of the most popular and best known songs from various ages of popular music. The Mayor, Councillor Allan Ewart, said: "It will be a pleasure to welcome Foster and Allen to Lagan Valley Island to perform at our St. Patrick's concert. The talented duo has entertained millions of people around the world and I'm sure they will be a very popular act. The concert is part of the Council's Good
Relation's Programme committed to building effective relationships among the citizens of the City. What better way to do this than through music? The evening's entertainment is made even more special by the fact that all proceeds from the show will be donated to my chosen charity 'Tinylife'." Tony Allen said he was looking forward to performing in Lisburn. "It's a great honour to have been invited to appear in the Mayor's Charity Concert. We look forward to meeting old friends on March I8 and hopefully making a few new ones," he said.
Tickets for the show are £I7.50 each or £I5.00 concession and can be purchased from the Island Hall Box Office Telephone 9250 9254.
Ulster Star
26/02/2010