`Please let us know you are all right'
Wife's plea for help to find Lisburn man missing for nearly two weeks
by MARY MAGEE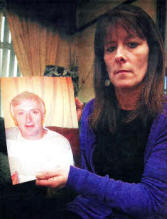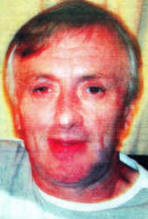 THE WIFE of a Harmony Hill man who has been missing for nearly two weeks has appealed for him to get in touch.
Eric Partridge from Ferndell has not been seen or heard from since Sunday, February 14 when he was seen at the Lagan Towpath at around 4.30pm.
And this week his wife of almost 20 years, Margaret, urged him to make contact with her or a member of the family to let them all know he is safe.
Eric, a self employed painter and decorator last spoke to Margaret on the phone on Friday, February I2 and he also left a short message on the answering machine.
When there was no more contact with anyone Margaret called the police.
Eric was brought up in Dunmurry and the couple lived in Seymour Hill before they moved to Harmony Hill ten years ago. The couple have two teenage children, who she said have been left very distressed by their father's disappearance
"Just please get in touch for the sake of your children and the rest of your family," said Margaret. "We just want him to know that we are here for him and we love him. "We are all very worried. Many people who saw the article in the paper last week about him going missing have said that they did not recognise Eric because he is in a great deal of distress."
Margaret said the message Eric had left on the phone had worried her as he sounded as though he was very low.
She said he had been staying with his brother but no-one had heard anything. He withdrew £3I from the bank just before he was reported missing, but nothing since.
"He is a smoker and £3I does would not go that far," she said.
"Eric is a very proud and independent man and if he knew that he was even in the paper he would be annoyed.
"His kids mean the world to him and he loves them. For him not to make contact is so unlike him. He has never even stayed away before."
Margaret said the family have left posters in the surrounding area and received one call to say that someone had been seen matching Eric's description at McBurnies in Lambeg on Sunday around 6.30pm. Other appeals through the media have led to nothing.
"He was to attend a hospital appointment at the City on Monday morning but did not turn up for it and that's not like him," said Margaret
"The more this goes on the more worried I become. I worry about his state of mind. He has never been a depressive person but I just fear there is something wrong.
"I know him and from the way he was speaking I knew he was low. He would always put the family and the kids first and he would never even have stayed out and if he thought we were worried, it would have annoyed him."
Margaret said the police have assured her that they are doing everything to locate him. They have trawled through CCTV camera footage and divers have searched the River Lagan, but have found nothing.
"My kids and the rest of his family are heartbroken," said Margaret.
* Anyone who thinks they may have seen Mr Partridge, who is 5ft I0ins tall, of medium build, with short dirty fair hair with grey sideburns is asked to contact detectives at Lisburn CID on 0845 600 8000. When last seen he was wearing black jumper, blue jeans, black shoes, and a black leather jacket.
Ulster Star
26/02/2010