Pupils step out to help teacher prepare for Mongol Rally challenge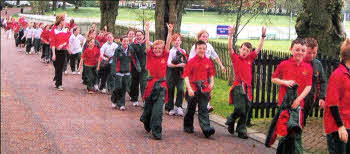 A TEACHER from Friends' School is preparing to take up a challenge of a lifetime this summer when he and two friends drive an ambulance all the way to Mongolia to raise money for charity.
PE teacher Stephen Robinson will be participating in the Mongol Rally with Alan Magee, a civil servant and Ben Haney who works as a Rugby Development Officer in Scotland.
On July 24 'M'onGo for a Rally Team' will embark on their adventure, travelling approximately 10,000 miles through 18 countries from Belfast to Bataar in Mongolia.
The team intend to donate the ambulance to the hospital in the capital of the country on their arrival.
To help Stephen along with his fundraising pupils and staff recently participated in a sponsored walk
Stephen explained: "Our chosen charities include: Cash For Kids and Mercy Corps. Our fundraising efforts to date have been very successful and varied in nature. The most notable event was the 10,000 steps for 10,000 miles sponsored walk recently completed by the pupils and staff of Friends.
"The whole school attempted the challenge of walking 10,000 steps which not only equals the guidelines set by the NHS for our average daily walking distance but also replicates the approximate distance to be covered in the ambulance in order to deliver it to Mongolia. In total the school raised just over £10,000 which is a fantastic achievement and a credit to all who participated."
Stephen appealed to the local business community to help the team with their fundraising. He said: As you can appreciate, the costs of arranging such a trip are considerable. Although we have planned our own fundraising events it is hoped to raise money from the local business community to help reduce overall costs to a reasonable level and also donate worthwhile funds to our chosen charities. If you are interested in corporate sponsorship please contact us by email through mongoforarally@hotmail.com "
He added: We are now progressing with other fundraising ventures and continue to plan for our trip. If you would like any more information or think you could donate items required within our kit list please visit www.mongoforarally.com".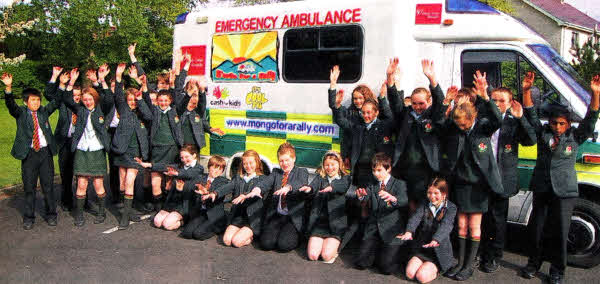 Friends' School pupil's with the ambulance teacher Stephen Robinson will be driving to Mongolia with his team mates to raise money for Cash for Kids and Mercy Corps in Mongolia.
Ulster Star
28/05/2010