Country Fair hits the mark with family appeal
ONE of Northern Ireland's largest summer events is scheduled for the Bank Holiday weekend of Saturday 29 and Sunday 30 May and will be staged in the delightful grounds of Moira Demesne on Co. Down.
The National Countrysports Fair is one of a kind in Northern Ireland offering not only a super day out for those interested in traditional country sports but as a great shopping experience and a real family occasion. While there will be green wellies and wax coats in abundance, the two-day game and country fair really does have broad family appeal and, with children under the age of 16 being admitted free when accompanied by an adult, it certainly is a value-for-money day out.
For those not particularly interested in clay pigeon shooting, fishing or gundogs then maybe the idea of visiting a country fair may not be that appealing. The National Countrysports Fair, however, is not just about fishing and shooting. This two-day show is a real family occasion and whilst it does have the aforementioned activities included, they are just part of a much larger attraction. This is an event that will appeal to every member of the family be they male or female, young or old!
If you are still not persuaded then what about and International Food Festival or a Rural Crafts Fair? Both will feature at the National Countrysports Fair. Housed in a large pavilion in Moira Demesne, the Food Festival truly is a "try before you buy" event. The emphasis is on quality products and with French crepes, Spanish paella, Italian pasta, Greek olives, Mexican tapas, seafood, speciality tea and coffee, Belgium chocolate, Irish cheeses, hand made ice cream and yogurts, Scottish liquors, organic fruit and vegetables, roast hog, organic meat and poultry and even home made fudge all the way from the Isle of Arran!
For those interested in hand-made crafts there will be lots to see and buy. Woollens, candles, ceramics and pottery, jewellery, hand made walking sticks, fly dressing, taxidermy, textiles and toys, clocks, silverware and wood turning, the list just goes on. Again housed in a pavilion at the centre of the event, the Rural Crafts Village is brimming to the seams with authentic, hand made produce.
Dogs will, of course, feature prominently at the country fair with eight different events running on both days and a free to enter children's pet show.
Sporting Associations give their backing to big local event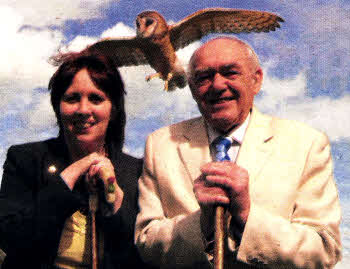 The two largest sporting organisations in Northern Ireland, Countryside Alliance Ireland (CAI) and the British Association for Shooting & Conservation (BASC) are fully supportive of this annual event which has become a showcase for rural activities in Ireland. Both BASC and CA1 have their Northern Ireland headquarters in the Lisburn Council area CAI at Larchfield Estate and BASC in Castle Street.
A spokesman for the National Countrysports Fair said that his organisation welcomed the increased involvement of these two influential associations at the show and feite their input would greatly improve the visitor appeal of the fair.
The CA1 Chief Executive, Lyall Plant, is delighted at the opportunity to play an even bigger role in this year's game and country fair at Moira. "CAI has always been delighted to support the National Countrysports Fair which is a very popular event with our members. This year, however, we have greatly increased out presence at Moira and have designated the National Countrysports Fair as our Membership Event for Northern Ireland. We encourage CAI members to attend and, through working with the organisers, can offer them discounted entry into the fair. Our presence at the Fair will be significant and representative of the many aspects of country sports and country life we are involved in." he added
More information on all aspects of this two-day game and country fair is available on the show's website at www.gamefairireland.com. The National Countrysports Fair is supported by Lisburn City Council and the Northern Ireland Tourist Board The National Countrysports Fair commences at 10:00 each day and runs through until 18:00. Car parking is free and is on-site. This is a sister event to the Irish National Country Fair which will be held at Ballinlough Castle, Co. Westmeath on 31 July and 1 August 2010
Angling events stack up at the National Countrysports Fair
The event's Director of Angling, Lawrence Finney said this year's Angling Village at the show will prove to be something of a Mecca for Ireland s anglers.
"Many of the top names in angling will be at the show and some excellent bargains are there to be had from traders from all parts of the British Isles who will converge on Moira for the show. Quite literally everything from a fishing boat to a fishing fly will be on view and to purchase" Mr. Finney added.
Children will be admitted free of charge to the National Countrysports Fair this year in keeping with the organiser's wishes to make this an educational, entertaining and a value for money event for all the family.
The Association of Professional Game Angling Instructors (Ireland) APGA1I, will play a major part at the Moira event with many of their members present to offer advice and give practical demonstrations on fly dressing and fly casting both in the show's Main Arena and in the specially prepared casting area beside their stand. Here, members of the public can not only try out rods they may be interested in buying, bit also receive free tuition from the APGAII professionals.
Children go free to Moira Country Fair
The organisers of the National Countrysports Fair, have announced that they will scrap children's entry fees for the 2010 event. This move is to make the event more affordable for families in recessionary times and highlights their commitment in ensuring this remains a family orientated event.
The National Countrysports Fair commences at 10am each day and runs until 6pm. Adult admission is £10 with car parking on-site and free. More information on this and all aspects of this two-day game and country fair can be had by visiting the website at www.gamefairireland.com.
Ulster Star
21/05/2010