New citizens tell their stories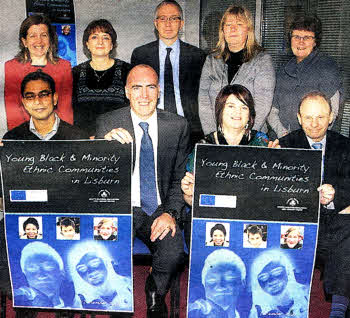 The SEELB Youth Section has received funding from Peacelli to develop work with Black and Minority Ethnic Communities in Lisburn. The launch of a research document entitled Young Black and Minority Ethnic Communities in Lisburn with the Project Advisory Committee took place recently. US0810- 109A0
THIS week saw the launch in Lisburn of a research report exploring the lives of local young people from Black and Minority Ethic communities.
The research is part of an innovative new project initiated by the South Eastern Education and Library Board Youth Section and funded through the European Union's Regional Development fund.
Mary McGrath, the youth worker behind the research explained: The Peace Process brought with it renewed hope that the people and the place could prosper; Lisburn became attractive to newcomers from more diverse backgrounds than had previously been the case. Our research has shown that for many of the young people that were drawn to our city the challenges of teenage life are made more complex by contrasting expectations from their family in d their school friends, and by the racist and xenophobic attitudes they encounter on a regular basis." Mary's research is providing the cornerstone for a raft of new initiatives to challenge racist attitudes among local young people and prepare young people from minority ethnic communities to play a full and active role in civic society.
The SEELB project is supported by representatives from all the major agencies working with young people in the Lisburn area including: South East Health Trust, Lisburn City Council, PSNI and. Lisburn YMCA as well as representatives from formal education and a range of community groups
To find out more about the project or to access a copy of the research report contact Mary at mary.mcgrath@seelb.org.uk
Ulster Star
05/03/2010