Knockmore estate shines a light with new sculptures
by JULIE ANN SPENCE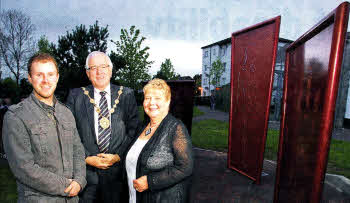 KNOCKMORE estate in Lisburn was lit up this week with the launch of three new sculptural artworks designed by people who live in the area.
The £40,497 project, funded through the Arts Council led Re-imaging Communities Programme, has provided new stainless steel artworks, with lighting as a part of the design.
The regeneration project is made up of three new sculptural pieces of artwork, thermoplastic ground markings and the removal of what were called 'territorial markings' throughout the estate.
The three pieces of artwork have been designed by various groups in Knockmore in conjunction with artist Kevin Killen. The panels are linked by the themes of Past, Present & Future.
They all have a human form to represent families and the idea that many people in the area have several generations of their family living there. The pieces will be lit up at night.
The young people from Knockmore youth group designed a panel of a face, which is an amalgamation of photographic images of all the young people involved with the project with the theme of 'Future.
The central female figure has a vine running through her form - the idea of a family tree - and represents 'Present. Senior citizens were involved in the making of a panel in the shape of a hand.
Symbols with this include images of farming, the old train station as well as old games which the seniors played as children - the idea of 'Past'.
Commenting on the project Roisín McDonough, Chief Executive of the Arts Council of Northern Ireland and Chair of the Shared Communities Consortium, said: "The Re-imaging Communities Programme is committed to building a shared future for Northern Ireland that is founded on partnership, equality and mutual respect.
"The completion of this artwork in Knockmore Estate is the result of the community's joint efforts. Working together with Kevin Killen they have created a new public artwork which has enriched the environment and provided an opportunity for people from different backgrounds to work together towards one common objective."
Groundwork NI provided technical assistance to this project, liaising between the community, artist and contractors.
Melanie Rintoul, the Project Officer from Groundwork NI, said: "The local community have been very enthusiastic about the whole process of this project and the resulting artwork marks a striking entry into Knockmore."
Ann Watson, Chair of Knockmore Community Association commented:
"The different groups really enjoyed the whole experience of being involved with this project, and are delighted with the end result."
The Re-Imaging Communities Programme is funded by the Shared Communities Consortium, made up of the Arts Council of Northern Ireland, OFMDFM, DSD, DCAL, Community Relations Council, PSNI, SOLACE (Society of Local Authority Chief Executives), International Fund for Ireland, NI Housing Executive and the Northern Ireland Office.
julieann.spence@ulsterstar.co.uk
Ulster Star
07/05/2010