New Year Honours for local people
Lambeg woman honoured for work with forces' charity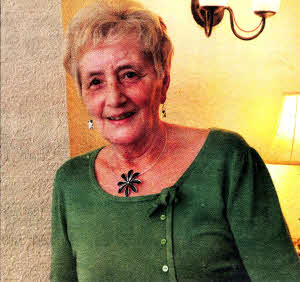 LAMBEG woman Mrs Ann Kirkwood has received the MBF for services to the Soldiers', Sailors' and Airmen and Families Association in Northern Ireland. The married mother of two, whose husband Stewart previously received the OBE, says said she was delighted when she was told of the award.
"I've worked with SSAFA for 26 years and it will be lovely to get the honour" said a thrilled Ann. Ann, who has lived locally since she was married 44 years ago, is based in Belfast and is the charity's only employee. Everyone else involved with the branch are volunteers. SSAFA Forces Help has been serving the Armed Forces and their families for well over 100 years and its work is as vital today as it has ever been.
From the provision of Health and Social services, to supporting the ex-Service community; from running a confidential support line, to delivering holidays for children with additional needs, the organisation covers a very broad spectrum of issues.
---
MBE for services to education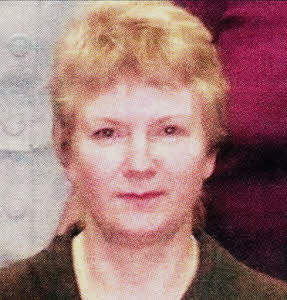 CRUMLIN woman Vine Haugh, Adviser for the Creative and Expressive Studies at the Southern Education and Library Board based at the Armagh multi media centre (AMMA), has received an MBF for services to Education in Northern Ireland as part of this years New Years Honours.
Mrs Haugh, a former teacher, said that she was indebted to her family and friends for helping her achieve such an honour. "It is rare for any individual to achieve such an accolade single handed. I have been fortunate to have always worked for and with colleagues who have provided me with the latitude to be creative and who have helped make ideas and ambitions come to life," she said. "To these people I am indebted."
She spoke of her work: One of the benefits of working in the creative arts sector is having the opportunity to come in contact with a wide range of truly creative individuals inside and outside education. This constant source of inspiration has motivated and inspired me through the years and has contributed to my own professional development which I hope I have in some way been able to pass on to others ... even my long suffering family and friends.
"My ambition through work has always been to bring some influence to education that can positively influence the lives of young people."
After leaving teaching Mrs Haugh went into the arts to provide professional development programme for teachers in primary and post primary schools. Director for the AmmA Creative Learning Centre which provides
training for teachers and young people and as director of the centre.
"I have found adults as much as children need to explore their creative abilities and on a weekly basis I continue to see the outcomes of this work.
"More recently, over the past 5 years in the SFLB, I have been fortunate to have had the opportunity to further the creative agenda into working in the world of digital media.
"The developments of creative technologies in the fields of music, film, animation now mean that young people of all ages can create their own work. The AmmA Creative Learning Centre provides training for teachers and young people and as director of the centre I can see influences emerging that will affect both classrooms and potential employment routes for the recipients of these experiences in the not so distant future. The centre runs summer schools, evening workshops, in school programmes and I am constantly reminded of the talent we have in Northern Ireland."
---
Former Lisburn resident 'surprised and delighted' with her MBE
FORMER Lisburn resident Jennifer Boyd has said she was "surprised and delighted" to have been awarded an MBE in the Queen's New Year Honours list.
Miss Boyd, the Principal of Enniskillen Nursery School, was recognised for her services to Education in Northern Ireland. Jennifer was born and educated in Lisburn, attending Friends' School.
She said her late father, the Very Rev Dr William Boyd, the former Moderator of First Lisburn Presbyterian Church and the former Chairman of the Board of Governors at Wallace High School, was "an inspiration" to her.
Jennifer commented: "I was very surprised when I heard the news. I am very delighted to accept it on behalf of all the people I've worked with in the past and those I currently work with.
"My father was an inspiration to me and he would have been delighted that I've got the honour. My mother is 93 and she is thrilled," she added.
Jennifer revealed that this will be her second brush with Royalty, having been awarded her Gold Duke of Edinburgh award by the Queen and Prince Phillip, the Duke of Edinburgh on board the Royal Yacht Britannia when it docked in Belfast in 1977 to celebrate the Queen's Silver Jubilee.
Looking ahead to her forthcoming visit to the Palace, Jennifer stated: "I'm really looking forward to that. I will be bringing my two sisters and a niece with me, so we will make it a family event.
---
Second honour for Drumbo man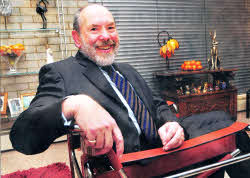 PROFESSOR Jim Swindall will know what to expect when he travels to Buckingham Palace to receive the CBF for services to environmental science which he received in the New Year's Honours List.
For the Drumbo man was awarded the the OBF in 1997.
Prof Swindall, co-founder and Consulting Director of the QUILL Centre at Queen's University, said he was "over the moon" to receive the honour. "I certainly didn't expect to got another one," he said.
Born and bred in Drumbo, Prof Swindall was a pupil at Drumbo Primary, Drumbeg Primary and Brownlee Primary before moving on to Lisburn Tech. He became a technician at Queen's University in 1961 and remained at the university until he retired in 2002. However, he still works as a consultant there.
In 1989 Prof Swindall helped to establish Europe's only Industry/University Co-operative Research at Queen's - Queen's University Environmental Science and Technology Research (QUFSTOR) Centre and in 1999 he set up Queen's University Ionic Liquid Laboratories (QUILL), which is the first research centre to focus on ionic liquids in the world.
As well as a passion for Environmental Science and research, both Prof Swindall and wife Rita are keen gardeners one successfully ran the Belfast Book Fair for 25 years.
Prof Swindall has met the Queen on several occasions, not only when hr received his OBE but also when both QUESTOR and QUILL won the Queen's Anniversary Prize for Higher and Further Education, and he looking forward to possibly meeting her again when he receives his CBF. "My wife and I are both absolutely thrilled," he added. "I have been walking around with a silly grin on my face for the last six weeks.'
julieann.spence@ulsterstar.co.uk
---
Deputy Chief Executive of AFBI awarded the OBE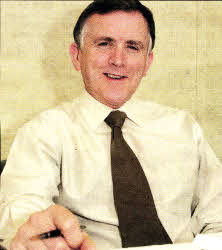 THE former Head of Division at the Agri-Food and Biosciences Institute (AFBI) at Hillsborough, Dr Sydney Neill, has been awarded an OBF in the New Year's Honours list. Dr Neill, the Deputy Chief Executive in the AFBI, joined the staff of the Department of Agriculture and Rural Development's Veterinary Sciences Division in 1974 and was appointed Head of its Bacteriology Branch in 1993. He was promoted to Deputy Chief Scientific Officer and Head of the Agriculture, Food and Environmental Sciences Division of DARD's Science Service in 2002, and appointed AFBI Deputy Chief Fxecutive on the institute's formation in 2006.
Dr Neill graduated in medical microbiology from Queen's University Belfast from where he subsequently gained a PhD for research in food microbiology. As an internationally recognised bacteriologist, Dr Neill led DARD's research programme on bovine tuberculosis (TB) for several years. He spearheaded development of the gamma-interferon blood test for this disease and led the largest field trial evaluation of this test to be carried out in the UK. The results of his work paved the way for the practical application of the gamma-interferon test, as an adjunct to the skin test, in bovine TB eradication programmes.
Dr Neill has considerable international research experience with expertise in food-borne pathogens and animal disease. He has collaborated with scientists throughout the world, including in Australia, New Zealand, Europe and USA, written numerous scientific articles and addressed scientific conferences in many countries.
More recently, he played a leading role in establishing the Renewable Energy Centre at AFBI Hillsborough and in planning AFBI's first highly successful international conference on renewable energy in 2008. He has made an important contribution to local economic strategy by representing AFBI on Matrix, the Northern Ireland Science Industry Panel.
Ulster Star
08/01/2010