A rich and fulfilled life
OBITUARY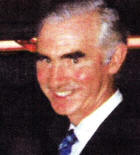 PERCY Walker, well known local sporting personality and successful businessman, has passed away peacefully (aged 73) after a brave battle against Alzheimer's in the Lagan Valley Hospital.
He was interred in Lisburn New Blaris Cemetery after a celebration of his life service in First Lisburn Presbyterian Church attended by a large gathering from his sporting and business background heard the Rev John Brackenridge pay a fitting tribute to a rich and fulfilled life, a real dedicated family man.
Percy was the youngest of the well known sporting family of seven brothers, was born in 1937 in Ivan Street and educated primarily at Lisburn Central School and later at the Technical College where he met his future wife Margaret Blackburn who has survived him after 52 years of married life. Together they worked in the offices of the then Lisburn Urban District Council where Percy's duties were that of rent collector which he carried out with much popularity, building up a relationship with the people that was to stand him in good stead in later business years.
After spells in the Government and NIE he formed his own company PDW Ltd and under this umbrella he pioneered the concept of PVC double glazing in Lisburn. With the support of Margaret and family the business developed into a very flourishing concern, handing over to his son Paul on his retirement in 2003. His sporting career took of at the early age of 12 when he was a member of the Lisburn Boys cricket XI who won the Graham Cup in 1949. At this time the 'Walker brothers' were beginning to make an impressive impact on the Ulster table tennis scene and Percy an exciting young prospect played his part by winning both the Lisburn Open and Belfast and District Boys titles in successive years in 1950 and 51. He later played an important role in the success of the Lisburn Institute team in the Belfast Premier League and the Lisburn and District side who won the Oriel Towns Cup on a number of occasions.
However, from his early 20's his real passion was golf both at Lisburn's Longstone Street Club and then on to Blaris. Hours of practice soon realised a handicap of 3 and he won most of the Club trophies on offer including Captain's Prize and represented the club senior side for many years.
Even though his health precluded full participation in latter years he still took a keen interest in tutoring and helping younger players.
Above all, his main priority was his family of whom he was very proud, always setting a good example to his four children, encouraging participation in sport and outdoor activities.
Percy and his first son Gary together conquered most mountain peaks, Paul was a fine soccer player with Wesley, his only daughter Julia a hockey inter-pro and Neil like his dad an excellent golfer.
Son of Lisburn Urban Councillor Fred and Tillie Walker, he is predeceased by brothers Joe, Maurice, Victor, survived by his beloved wife Margaret who cared for him so tenderly in the final stages of his life, brothers Ronnie, Ernie, Cecil and sons Gary, Paul, Neil, daughter Julia and ten grandchildren, to whom deepest sympathy is extended.
Cecil Walker
Ulster Star
30/04/2010