Former Lisburn Mayor laid to rest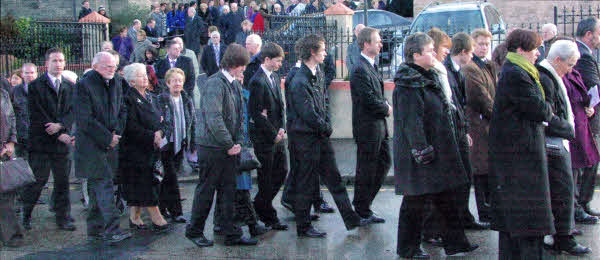 Hundreds attended the funeral of former Lisburn Mayor Councillor Peter O'Hagan
HUNDREDS of people, including local politicians and prominent members of the SDLP attended the funeral of former Lisburn Mayor, Councillor Peter O'Hagan on Sunday (December 27).
Mr O'Hagan, who made history as the first Nationalist Mayor of Lisburn, died suddenly last week and was laid to rest at Holy Trinity Cemetery following the service at St Patrick's on Sunday.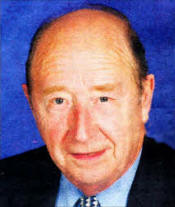 The service was led by Derriaghy Parish Priest Fr Feargal McGrady, whose uncles attended St Patrick's Grammar School, Downpatrick with Councillor O'Hagan. Former Blaris Parish Priest Fr Sean Rogan and Mr O'Hagan's brother-in-law Fr Michael Browne from Clonard Monastery also took part in the service.
During the service Fr McGrady spoke of Mr O'Hagan's dedication to public service, his passion for the education of young people, his love of his family and his deep personal faith.
"He was a man of great integrity," said Fr McGrady. "He was respected across the political spectrum, he was respected in the community and he was a wonderful parishioner."
Mr O'Hagan's family have thanked everyone for their support during this difficult time. "We have been overwhelmed by the kindness and support shown following Peter's sudden death," said Rosemary, his wife of 49 years.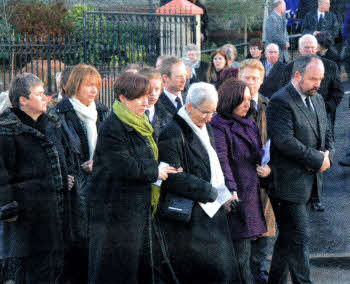 "It has been remarkable to speak to so many friends and supporters who have shared their memories with us." Mrs O'Hagan said that her husband had been dedicated to his work as a councillor and one of his proudest moments had been to serve as Lisburn's First Citizen. "He loved people and he never turned anyone away," she continued. "He made history being the first Nationalist Mayor of Lisburn and we both enjoyed every second of it. We were so well received by everybody everywhere. He loved getting out and meeting people and I went everywhere with him.
"We had been married for over 49 years and he was a wonderful husband and father. He loved his children and grandchildren very much."
The O'Hagan family have also thanked the police in Lisburn for their assistance in controlling the traffic both before and after the funeral.
Councillor O'Hagan is survived by his wife Rosemary and children Michael, Geraldine, Aideen, Catherine and Grainne.
Memories of Councillor O'Hagan
FRIENDS, colleagues and past pupils have left memories of Councillor Peter O'Hagan on the Ulster Star's Facebook page. Here are some of our readers memories of the former Mayor of Lisburn.
Sorry to hear the news about Peter. I have some good memories after photographing him over the past 20 years -Simon Graham, Photographer
He was my headmaster in St. Aloysius. Lovely man and a brilliant headmaster. Very sad indeed. RIP Mr O'Hagan -Sarah Halpin
Sitting at the same table with him at the Mayor's Christmas dinner. Great shock and his wit and wisdom will be greatly missed - Councillor Ronnie Crawford
He was a wonderful man. He was my principal at St Aloysius will be sadly missed. Prayers and thoughts are with his family - Former Pupil
A true gentleman who after nine years in Council I only got to know this past year. The voice of reason in the Chamber during debates. Someone who made you sit up and think. His stories were the stuff of legend, you could've have listened to them all day - Councillor David Archer
I recall him as a very articulate, hardworking and sometimes isolated councillor in the 80s. A true gentleman - David McCavery, Serious PR
| | |
| --- | --- |
| | |
| At the funeral of Lisburn Councillor Peter O'Hagan last Sunday are L to R: Castlereagh SDLP Councillor Brian Hanvey, Lisburn SDLP Councillor Brian Heading, Lisburn Mayor Councillor Allan Ewart and South Belfast MP Dr Alasdair McDonnell MLA. | Margaret Ritchie, Minister for Social Development, SDLP South Down MP Eddie McCrady and Lisburn Councillor Bill Gardiner-Watson at the funeral of Councillor O'Hagan, |
julieann.spence@ulsterstar.co.uk
Ulster Star
01/01/2010