From quiet village to centre of attention
Jenny Monroe sees what effect the crisis talks are having
on the lives of the people of Hillsborough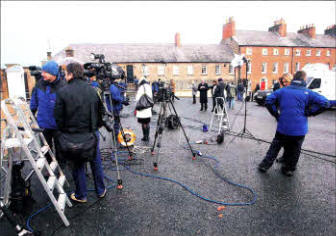 IT WAS a scene Hillsborough thought had faded into the past - the swarms of reporters and photographs with the satellite trucks packing the Square as crisis meetings went on inside the Castle to save the Stormont assembly. But this week it was back and as the picturesque village was hosting talks aimed at averting the collapse of devolved government in Northern Ireland the Star went to find out the impact.
It quickly became clear the main issue is trade. Several business people said they always notice a difference in trading levels when something major is happening at the Castle.
Mimi Gorman, who owns the well known Hillsborough toy shop, The Cheshire Cat and gift shop Trio explained that every time an event like this is taking place, she notices a considerable dip in business. "It's not good whatever the economic climate, but especially not good at this time" she said.
Mimi suggested that difficulty in parking when the village is busy simply puts people off.
"People stay away thinking it will be difficult to park with the TV crews and heightened security" she said. "I haven't had one regular customer in today."
She continued: "The eateries seem to be doing well though with the reporters and officials".
"I just wonder why they chose here instead of Stormont?", she asked.
A spokesperson at a local off licence said business had been affected because people couldn't park outside the shop.
"I don't mind the security restrictions on the other side of the road at the Castle but I don't think it is necessary outside our shop," they said.
But as with many crises, other businesses appear to benefit with officials and reporters dining out in nearby restaurants and clean shirts and underwear for the leaders reportedly being purchased in the nearby Marks and Spencer Sprucefield store. A spokesperson for a new business in the village said trade had been steady and she was happy enough so long as it wasn't affected too badly.
And most shoppers who managed to get into the village seemed happy enough going about their business.
One lady said she was used to things going on at the Castle and had managed to get her car parked "easily enough" but said that was probably due to other people avoiding the area thinking it would be too much of a hassle.
Another passerby who lives in the area remarked that the she enjoys seeing the different visitors going to the Castle and is proud that it is in Hillsborough.
Ulster Star
29/01/2010