Rachel over the `moon' as first book is published
MUM'S PRIDE AS GIRL WITH ASPERGER'S BOOK IS RELEASED
by STACEY HEANEY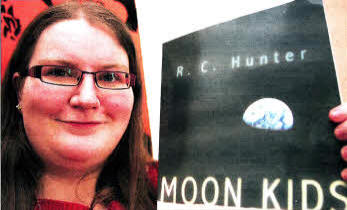 LISBURN girl Rachel Hunter was over the moon this week as her first book, 'Moon Kids' was published.
And just as thrilled was mum Maud Hunter who spoke of her pride in her daughter, who has Asperger's Syndrome, after she received a copy of her first book from the publishers to fulfil a life-long ambition and become a published author.
2I-year-old Rachel, a former pupil of Ballymacash Primary School and Laurelhill Community College, has always dreamed of writing a book and this week was able to see Moon Kids available to buy on the websites of all the major book sellers.
Maud commented: "For Rachel to achieve this is amazing, I am so, so proud of her." Moon Kids is a fiction book aimed at children aged between 9-I4 years old, however Maud says it will be enjoyed by "any adults who have that inner child in them."
The story, set in the year 2068, follows three siblings Apollo, Spacey and Halley, who live on the moon, where people have been dwelling for four decades.
"However, the three are allergic to air and their difference has led to bullying in school and resulted in the three taking the chance to escape to the light side of the moon where they experience all sorts of exciting adventures.
Maud said: "Rachel suffered from bullying when she was growing up, partly because of her condition which meant she took things not how they were necessarily meant. Ballymacash were brilliant with her. It was her teacher Mr Charlwood who recognised she had a learning difficulty and she was one of the first pupils at Laurelhill with Aspergers and they all went for training.
"She has had quite a bad few years and was in and out of hospital and it was one thing after another, but she was able to write this
book and now it is published, I'm so proud. "The book is dedicated to two of her friends, Laura and Fiona Wills, who always come to see her and have been there for her since their schooldays," Maud added.
"I'm so proud of her, so are all of the family. I can't say enough good about her, she is so selfless and always worries about others." Rachel has already started to write a second book.
Maud continued: "This has given her something to look forward to. She had the idea from before she left school but different pressures through the years didn't allow her to write it. Instead she wrote down her ideas and now she has 'Moon Kids'.
"It is so fantastic. I have let her school know about it, to know that someone with Asperger's can achieve their goals and dreams. Rachel really wants to inspire other
children with Asperger's or any autistic conditions that they can do anything they want to."
Maud contacted publishers AuthorHouse on behalf of Rachel, and it is the American side of the company who have helped Rachel through the process of having the book published.
Maud commented: "Rachel wouldn't be good at talking on the phone with people so I made the calls for her, but she contacted the people at AuthorHouse. by email and it was Rachel who chose the cover design, what the dedication was, the description of what the book was about, Rachel was involved in everything right down to the pricing. It looks amazing for her and those at AuthorHouse, Alexandra Wallace and Heather Hobson and the whole team were very, very good with her."
stacey.heaney@ulsterstar.co.uk
Ulster Star
19/02/2010