Hundreds mourn minister
who gave 47 years faithful service to Lisburn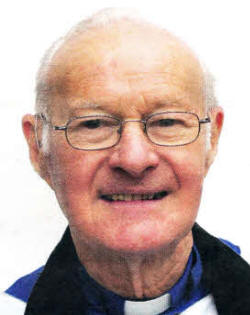 THERE was a huge congregation on Wednesday for the funeral service of one of Lisburn's best known clergymen, the Rev Dr Canon Kenneth Cochrane, who died on New Year's Eve after a short illness.
The service in St Paul's Parish Church was attended by hundreds of people who joined the family including the Mayor, Councillor Allan Ewart, clergy and ministerial colleagues from the Diocese of Connor and beyond and the Canon's many friends.
The Dean of Connor, the Very Rev. John Bond, said: I am very conscious no words of mine will adequately reflect the deep love and affection in which he was held not only in this parish, community and city, but in our Diocese of Connor and the Church of Ireland. Each one of us here today could write down our own personal memories of Ken and fill many books — so rich and special are those memories."
Canon Cochrane's long and faithful ministry spanned over 50 years in the Diocese of Connor, over 47 years of which were spent in Lisburn. Born in Coleraine on October 21, 1927, he attended Coleraine Technical College and Coleraine Academical Institution before progressing to Trinity University, Dublin where he graduated in 1958 with a BA and Div Test. He was ordained in St Anne's Cathedral in June 1958 and served as Curate at St Aidan's, Sandy Row, Belfast (19581961) and St Nicholas', Lisburn Road, Belfast (1961-1962).
In May 1962 he became curate in charge of the new district of St Paul's, a daughter church of Christ Church. The Parish of St Paul's was intended to serve the Tonagh Estate, Moira Road, Ballinderry Road and the new housing estates planned for the area.
The site was purchased by Christ Church in October 1959 and two army huts were acquired and erected in an L shape joined together by a kitchen area. The huts were renovated by voluntary labour; one became the church and the other the church hall and they were opened and dedicated on Saturday 8th September 1962. The foundation stone of the present church was laid on Saturday 10th November 1962 and the church was consecrated on January 25 1964.
Dean Bond said it was appropriate to have the funeral service in "the very building Ken was responsible for. Indeed these stones speak more eloquently and adequately than any words.. for
this church stands not just as a memorial but as a witness to an energetic priest with an infectious zeal for the Gospel and to the many who found comfort in his devoted pastoral care."
Having lived in temporary accommodation in Belvoir Crescent, Mr Cochrane moved in 1964 to 'Hawtree', which was later to become the Rectory of St Paul's Parish. He was Curate-in-change from 1965-1966 and instituted as Rector in January 1966 in the new parish of St Paul.
During his incumbency he became Examining Chaplain to two Bishops of Connor. He was appointed to the Board of Nomination of the Diocese of Connor and later Canon of St Anne's Cathedral, Belfast in 1986 and received his Doctor of Philosophy degree in 1988. In 1990, Dr Samuel Poyntz, former Bishop of Connor, appointed him as Canon of St Patrick's Cathedral, Dublin, representing the Diocese. He also became Clerical Secretary of the Diocese of Connor.
During his 36 years ministry at St Paul's, he appointed nine Curates - one became a Bishop, two Deans, some became Canons and two obtained doctorates.
In the early days of St Paul's, he recalled that 500 children attended the Sunday Schools under the supervision of 50 teachers. He had seen eight candidates from St Paul's enter the full-time ministry -one has already become a Dean and one a Parish Reader.
Canon Cochrane retired in December 1998 and became assistant to Canon Sam McCombe at Christ Church Parish, Lisburn in 1999. When the present Rector of Christ Church, the Rev Paul Dundas, was instituted in January 2005, Canon Cochrane became senior minister.
Both he and his wife Mildred continued as parishioners of Christ Church Parish. His long and faithful ministry in the Diocese of Connor and his pastoral service to the City of Lisburn was further celebrated on Sunday June 29, 2008 at a special service in Christ Church marking the 50th Anniversary of his Ordination. The preacher then, as on Wednesday, was the Dean of Connor, The Very Rev John Bond, who was Canon Cochrane's first Curate in St Paul's.
Also taking part were the Rev Jim Carson (Rector of St Paul's), Rev Paul Dundas (Rector of Christ Church) and The Rt Rev Alan Abernethy (Bishop of Connor).
Recalling happy memories of his curacy at St Paul's, Dean Bond spoke of the dynamic ministry of his former boss saying: "Ken Cochrane was an energetic and hard working Priest, outgoing, friendly and imaginative, a natural role model for his curates.
"He nurtured many vocations to the sacred ministry and offices in the church. He transmitted confidence to those around him and the parish admired his attention to detail and his trusting availability to so many to whom he was supportive, and brought out their best. A wise counsellor, his desire to get things done and with warm hearted helpfulness remained equally strong in retirement which he spent and enjoyed in Christ Church."
Canon Cochrane is survived by his wife Mildred, sons Peter and Michael, daughters-in-law Deardrie and Eleanor, and grandchildren Emma, Simon and Christopher, his sister Eleanor and brother-in-law Alan, nieces and nephews.
Ulster Star
08/01/2010