First minister grilled by budding Riverdale journos
by JENNY MONRO
A pupil asks a question during the visit to Riverdale Primary School by First Minister Peter Robinson and party colleague Edwin Poots to answer ten questions to mark the ten year opening of the school.
First Minister Peter Robinson and party colleague Edwin Poots visit local school in Lisburn Riverdale Primary to answer ten questions to mark the ten year opening of the school.
Pic by Stephen Hamilton Presseye.
FIRST Minister Peter Robinson has had some tough grillings during interviews in the past - but he has rarely been put under the pressure he experienced at a Lisburn primary school this week.
Mr Robinson and local MLA and Environment Minister Edwin Poots visited Riverdale PS to help the school celebrate its I0th anniversary and I0 would-be journalists from primaries four to seven took the opportunity to put questions to the ministers, asking about everything from their hobbies to global warming.
Starting the grilling on a lighter note, Andrew Elwood asked Mr Robinson what sort of things he liked to do in his spare time. In answer, football fan Mr Robinson told Andrew he loved watching all types of sport and he supports Glentoran, Spurs, Chelsea and Rangers.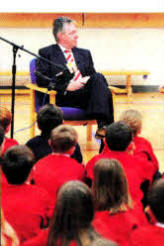 Nest up was Erin Gardiner who asked Mr Robinson and Mr Poots what they thought about the new transfer procedure from primary to secondary school.
In response, Mr Robinson told pupils he would like to see a transfer system "not based on dogma but on political choice"- giving the young journos a scoop that was later reported on TV, radio and in the newspapers. Responding to a question from Anna Finlay, Mr Poots said countries across the world don't uge the same currency because we can export more of our goods when we control our own currency. He added that people in southern Ireland had lost many jobs in the past two years because they were tied to the Euro.
Emma McDowell then asked the ministers why people had to pay for water. The First Minister told Emma water costs money to capture, purify and transport but that Northern Ireland was unique in the UK in that it did not have water charges.
Answering Catherine Harron about what we can do to help stop global warming, Environment Minister Mr Poots said recycling waste reduces gases from landfill, and added that improving efficiency in home heating, insulation and fuelling cars are the ways forward.
Cutting right to the point, Young Dylan Potts asked Mr Poots and Mr Robinson - in an obvious reference to the Maze - if they thought a sports stadium that people across Northern Ireland can use should be built, and where it should be.
Robinson conceded there was a big need for a sports stadium, but told Dylan there had not yet been agreement about where it should be located
Poots welcomes First Minister's commitment to selection process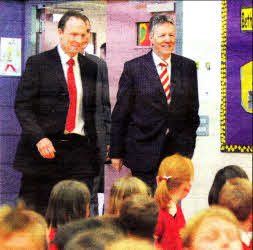 AFTER the Riverdale visit Mr Poots welcomed the First Minister's commitment that a form of selection will continue into the future.
He said: "It is evident that those who sought to deconstruct our education system including Grammar Schools have failed miserable. The attempts to do this started when Martin McGuiness was the unfettered Minister for Education and continued under the direct-rule Ministers who took the decision to abolish the old II+. As a result of negotiations at St Andrews Grammar schools have been able to set their own tests and despite the furore that has ensued over the past number of months the process has worked well with only 400 people seeking a remark as opposed to I200 the previous year under the old system."
Mr Poots said that, looking to the future, the secondary education sector needs to work closer together to deliver a wide range of subjects and skills opportunities for the range of children, from those who will engage in vocational jobs to the most academic.
"This can be achieved by building on what we have through the best academic results in the UK which we want to ensure continues whilst it is imperative that we tackle the issue of underachievement" he said. "The many excellent schools across the secondary sector can, I believe, adapt to do that and ensure Northern Ireland is renowned for not only producing the best but offering the best education to all our children."
He added: "I welcome the meeting that has taken place by the Grammar Schools Principals to try and find a common approach to the selection process. This is an issue that will require further work until a system is put in place that everyone is comfortable with but ultimately the current arrangement will and can continue until a system that has widespread support is identified as opposed to leaving a vacuum which the Direct Rule Ministers created."
Ulster Star
05/03/2010