RALLY AWARD FOR ROBIN
Two time Circuit winner honoured for service to sport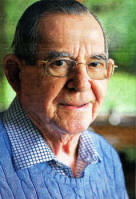 A lifetime devoted to rallying by Lisburn man Robin McKinney has been marked with a Lifetime Achievement Award by the Association of Northern Ireland Car Clubs.
Robin, from Harmony Hill, was surprised and delighted when he was presented with the award at the annual presentation ceremony held in the Seagoe Hotel, Portadown.
"It was a complete surprise," said Robin. "I really had no idea. I am honoured and delighted they thought of me."
Robin's devotion to the sport started way back in I948 and he was to become a double winner of the Circuit of Ireland Rally in I955 and I956.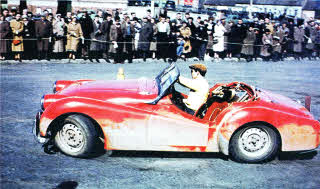 He stopped racing in 1960 and become involved with the rally committee. In I963 Gordon Neill asked him to take over Clerk of the Course and the Lisburn man served that role for five years from I963 to I967.
"A lot has changed in rally terms since I948 and during my time between 63 and 67. Along with the committee I feel we helped transform and move rallying forward. We changed the old format to the new format which really is used everywhere today," said Robin.
"I then became timekeeper and then steward. The ruling body was the RAC and it changed to the MSA (Motor Sports Association) and I then helped appoint the stewards in Northern Ireland."
Robin is now President of the Ulster Automobile Club. "I have no involvement in the day to day running of rallying, but I am here for consultation of course."
Ulster Star
12/02/2010