Sherry proves she has the 'Eggs' Factor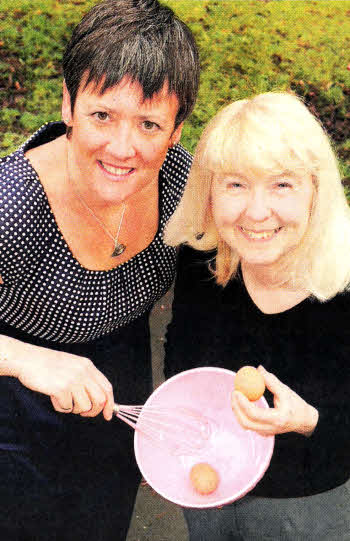 A LOCAL slimmer is 'egg-static' after reaching the final of a national competition to find the UK's best egg recipe.
Sherry Nelson from the Moira Slimming World group entered the Eggs Factor competition with her delicious recipe for Apple and spiced baked French toast.
Now Sherry, who has lost 1st 8lbs with Slimming World, is down to the final five after judges from Slimming World and British Lion Eggs selected the recipe from nearly 700 national entries.
"I'm absolutely over the moon and never expected to reach the final," Sherry said.
Delighted
"I love eggs, so I was delighted when I found that at Slimming World I can eat as many as I like and still lose weight. They're such a versatile food and so filling.
"My Apple and spiced baked French toast is a bit of a family favourite and the members in my Slimming World group are big fans too, so I'm really proud that it proved so popular with the judges."
Having reached the final five, Sherry's recipe is now on Slimming World's Lifeline Online website for members More than 300,000 members will be able to vote for their favourite recipe before the competition closes this Friday April 9, with the winner announced on April 12.
If Sherry's Apple and spiced baked French toast recipe wins she'll receive £500 shopping vouchers and have their recipe featured in Slimming World magazine, the UK's leading diet and health magazine.
Sara Emanuelson, spokesperson for British Lion Eggs, says:
"This has been such a fabulous competition and we're egg-cited about the number of entries and their high standards. Sherry's recipe for Apple and spiced baked French toast really stood out and showed what can be achieved with a little bit of thought and creativity. Eggs are great for slimmers.
"Anyone who'd like to try Sherry's recipe at home should look out for the British Lion mark on egg shells as this means that eggs have been produced to the highest standards of food safety," she added.
Sherry's recipe
Apple and Spiced Baked French Toast

Serves: 6
Syns per serving: 4 Syns on Extra Easy*, Green* and Original*
*Add 6 Syns if not using bread as a Healthy Extra 'b' choice
Ingredients:
12 slices of wholemeal bread (taken from a 400g loaf)
4 large eggs
415ml semi skimmed milk
118ml artificial sweetener
tsp vanilla extract
2 rounded teaspoons cinnamon
1/2 tsp nutmeg
3 large Granny Smith apples, peeled and thinly sliced
2 tbsp butter
Cooking time: 1 hour
Preparation time: 30 minutes + overnight chilling in the fridge
Method
1) Spray rectangular glass dish with low calorie cooking spray. Place the bread in the dish, overlapping the slices
2) In a separate bowl, add the eggs, 60 ml of the artificial sweetener, milk and vanilla extract and beat with a hand whisk for 1 minute. Pour half the mixture over the bread
3) Use the apple slices to cover the bread. Pour over the rest of the mixture
4) Mix the remaining artificial sweetener with the cinnamon and nutmeg. Sprinkle evenly over the bread. Dot with butter
5) Cover and refrigerate overnight
6) Preheat the oven to 180. Uncover the dish and bake for 1 hour
7) Remove from the oven and rest for 5 minutes. Cut into squares and serve with sweetened fat free natural fromage frais
Jill Ellis from the Moira Slimming World group with Sherry Nelson who entered the Eggs Factor competition with her delicious recipe for Apple and spiced baked French toast.
Ulster Star
09/02/2010