West End treat as St Patrick's pupils enjoy London visit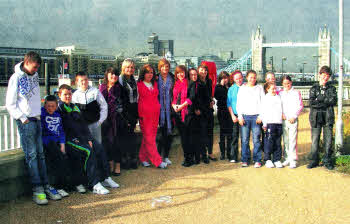 ST. Patrick's pupils were lucky enough to experience a cultural visit to London recently, when they took part in a cross-curricular, educational trip organised by the Art and Music Departments. The pupils, ranging from Year 8 to Year I2, were treated to a packed itinerary over the two-day trip. On their first day, students enjoyed a spectacular bus tour around the city and were lucky to see the rare occurrence of Tower Bridge opening twice within half an hour. For lunch they spent time in Covent Garden and made some interesting purchases - some great I heart London t-shirts and jumpers.
After an on-foot tour of the West End, narrowly missing George Clooney at the premiere of his latest film and seeing the mouth-watering foods on display in China Town, they arrived at the Piccadilly theatre just in time to be seated for a production of Grease. The show was outstanding with Ray Quinn as Danny and his real-life girlfriend, Emma Stephens as Sandy. After the show, energy levels were running high and the group decided to go around to the stage door to celebrity spot. They were not disappointed - autographs and pictures with Ray Quinn were the highlight of the night.
The next day, exhausted from all the excitement the party of students went to the 02 Bubble to experience British Music at its best through a fascinating interactive exhibition. On the flight home it was decided that the trip was too short and another trip should be organised for next year!
Ulster Star
12/02/2010