Hall of Fame honour for Stephen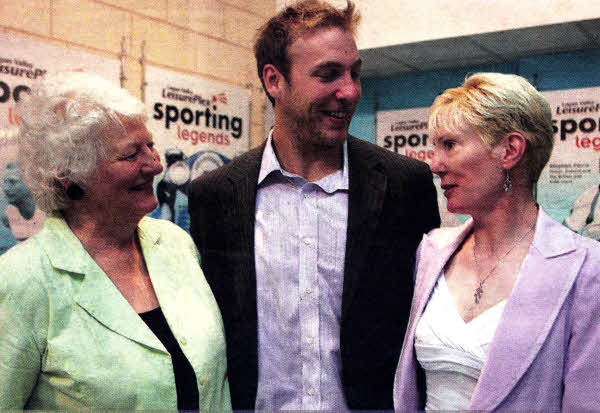 Ulster, Ireland and British Lion Stephen Ferris who has been inducted into the Lagan Valley Leisureplex Sporting Legends speaks with fellow Lagan Valley Leisureplex Sporting Legends Dame Mary Peters and Janet Gray. US2010-114A0
THE outstanding achievements of the Ulster, Ireland and the British and Irish Lions Rugby Player, Stephen Ferris, were celebrated this week with his induction into the 'Sporting Legends' Hall of Fame at Lisburn's Lagan Valley LeisurePlex.
Stephen, who lives in Maghaberry, attended the ceremony on Wednesday at Lisburn City Council's Lagan Valley LeisurePlex, for the unveiling of a life-size portrait, depicting his outstanding sporting achievements in front of invited guests.
Speaking at the ceremony, Stephen said: "I was thrilled to learn I would be joining such highly respected Sports personalities by becoming the latest Sporting Legend in the Hall of Fame. When I played Rugby at Friends School, Lisburn, I could not have imagined the journey my career has taken," said Stephen.
"I take great pride in what I do and what I have achieved and I hope that I can be an inspiration to any young athlete wanting to pursue their sporting dreams. Thank you to Lisburn City Council for this great accolade."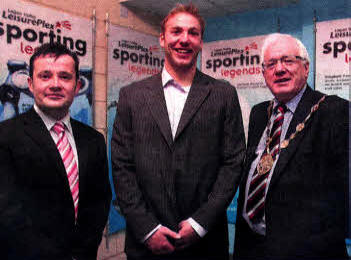 Paying tribute to Stephen the Mayor of Lisburn, Councillor Allan Ewart, said: "It gives me great honour to be part of this celebration for Stephen Ferris. His achievements in Rugby are commendable given his age, and the speed at which he made his international debut after graduating from the Ulster Academy system is truly remarkable. The recognition that we are giving Stephen today is a reflection of how the people of Lisburn regard and respect him. I would like to pass on my congratulations to Stephen on joining our esteemed 'Sporting Legends' Hall of Fame.
Commending Stephen on his achievements, Councillor David Archer, Chairman of the Council's Leisure Services Committee, said: "We have watched Stephen make great progress with Ulster and Ireland Rugby and it is only fitting the Council honours the notable achievements he has made to date.
"Stephen is an example of what can be achieved in sport with hard work and commitment and is a great inspiration to the youth of the City. There is no doubt that Stephen is a Sporting Legend."
Stephen is the 7th Sporting Legend to be honoured in the City and his achievements will be permanently displayed at the Lagan Valley LeisurePlex alongside Lisburn's other Sporting Legends including World Champion Water Skier Dr Janet Gray MBE, Olympian Dame Mary Peters DBE, Olympic hockey player Jimmy Kirkwood, World Champion boxer, Brian Magee, Irish International Cricketer, Dermott Monteith and International footballer Jimmy McIlroy.
Ulster Star
21/05/2010