Tractor accident victim laid to rest in Dromara
Church is packed as mourners remember loving father and son
by JENNY MONROE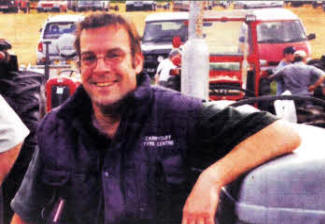 HUNDREDS of mourners attended the funeral of the part-time farmer who died in a tragic tractor accident on Saturday.
A service was held at St. John's Parish Church, Dromara on Tuesday for Stephen Stewart, 37. He was buried in the adjoining churchyard.
The father of one, who lived in the Dromara area with his parents, died in an accident on the Banbridge Road early on Saturday morning while just yards from his home. It is understood the accident happened at 4am and no other vehicle was involved.
Rev Canon Charlie Leeke and Rev. David Porter (retiring from Dromara Presbyterian), both paid tribute to the former construction worker who was working part time as a farmer. Rev. Porter spoke of Stephen's interest in farming and ponies and how he had passed this down to his beautiful daughter Emily, 5.
Canon Leeke spoke fondly of Stephen with one service goer commenting that it "felt like it was coming from his heart and was a really lovely personal tribute".
Stephen's brother Paul, an aide to Environment Minister Alderman Edwin Poots and Lagan Valley MP Jeffrey Donaldson, said his family were finding it easier to cope because they have been made aware that Stephen did not suffer. "We would not have wanted him to have been in any pain. He died instantly," he said.
Mr Stewart was the fifth person to die on Northern Ireland's roads this year and was the son of Desmond and Rhoda Stewart.
Paul said Stephen's daughter Emily had "many happy times" playing with her father and that she had been at the house last Sunday to go to church. "She loved being with her father and with the ponies here," he said. "We are all involved with horses and were all brought up with ponies.
"Stephen and Emily enjoyed their time together and went shopping at Christmas. Stephen was very much a loving father and he also enjoyed a close relationship with his mum and dad and with his brothers.
"We are a very, very close-knit family," he said. "Things are hard at the moment, but being close we'll get through it for Stephen's sake. He would want us to be strong.
"We have Emily to look after and we want to work alongside her to make sure she does not forget her father and the good times they had."
He said many of Stephen's friends had been recalling experiences they had had with him and ' their stories brought a lot of laughter and some tears".
"The back room in the house was full. We have great memories of Stephen because he had great friendships throughout the community."
Calling for all drivers throughout the Province to take greater care on the roads, Paul said: "Like anyone you never know when their son, daughter, father or mother goes out through the door if they are going to be safe.
"You don't know until the police come to the door - and then you know it is bad news. Police came to my mother and father's door at 7.30am."
Paul said: "Sometimes you don't appreciate it until it happens to you and reaches your own doorstep."
A close family friend, Beth Megarry, described Stephen as a "real character". "He was only 37 but every age group knew him and got on well with him. He was a most likeable fella and it is terribly sad.
"I don't think I've ever seen a church in Dromara as packed for a funeral. It really was fitting tribute of his short life."
Mr Poots said the Stewart family was "well known and respected" in the Dromara area and Stephen's death had been a great tragedy.
"Stephen was a young man with a lot of life ahead of him until this tragedy happened and denied him that opportunity," he said. "His untimely death is being regarded by the entire community as a great tragedy."
SDLP Councillor John Drake expressed his sympathy to the family.
Mr Drake said: "Stephen was a neighbour of mine from a very well respected family and his death is a tragic loss."
Ulster Star
05/02/2010