Swan Lake? More like `Swan path' along the Lagan
Feeding birds out of the water is attracting rats says resident
by STACEY HEANEY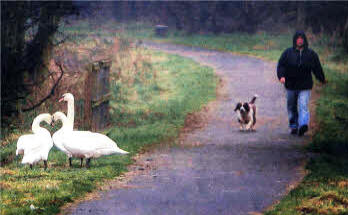 A LISBURN resident has spoken of the problems facing residents in the Ashmount Gardens area of the city after walkers began feeding a flock of swans along the pathway, causing rats to come from the river to take the food.
Speaking about the issue along the river close to the Island Civic Centre, the resident commented: "There have been 14 swans living there close to the civic centre for about six months. They are really nice birds, but the problem is people keep going along the path and leaving trails of food and bread the swans are coming up and eating it, but so are the rats."
She added: "They are very protective, understandably, but when you have got a dog and try to walk through them, it's very difficult, you can't just shoo them away."
The local woman is also concerned that one of the swans is injured.
She added: "One seems to be injured. It is usually always sitting down and when it tries to walk it takes two steps and hits the ground, although it can swim okay.
"They are really beautiful birds, just don't feed them on the path, even if people are coming along now with a plastic bag they are up trying to get what you have, I'd just like people to feed them in the water."
The USPCA's Welfare Officer Francis Fox said the charity had no report of an injured swan in the area, however he said it is likely one of the swans is being bullied by the others.
Mr Fox stated: "My colleagues are not aware of any injured swans, but they are aware that one is possibly being bullied. It always stays close to the water so it can get to safety at any time, but it wasn't hurt in anyway and wasn't in any real danger.
"Certainly if the person who has seen it can contact us and tell us what it is they saw we can then deal with it," he added.
If you have an issue to report to the USPCA, please contact one of their Welfare Officers on 07739948520.
stacey.heaney@ulsterstar.co.uk
Ulster Star
29/01/2010