Young diabetes girl reaches Teen Queen semi final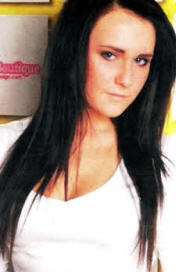 HUNTERHOUSE College student Nadia McKee, who suffers from diabetes, has reached the semi-finals of the Teen Queen UK competition.
The AS-Level student, who has Type I diabetes, has beaten off stiff competition from 9500 other girls to reach the semi-finals of the competition.
A text vote is underway to select the top two from each age category to go through to the grand finals in August. Voting is due to finish on February 28 at II.30pm and more information can be found at www.missteenqueenuk.com.
Nadia said: "I am so excited about the competition and so pleased to have got this far. I was diagnosed with Type 1 diabetes at I4 and I was determined to manage it effectively and not to let it stop me from doing what I want to do in life.
"I'm currently doing my AS Levels at Hunter House College and my dream is to become a fashion designer. The competition is fantastic because I'm getting to see how the industry works and meeting so many new people. I'd really love to get through to the final in August and just hope people support and vote for me.'
The prize includes designing a t-shirt which will be modelled at the Clothes Show Live 20I0 by the winning Teen Queen. It also includes an Introduction to Rage Model Agency, representing the UK in an international pageant, make-up, hair and clothes and the...opportunity to become the face of Amplified.
Gillian Moffett, Volunteer Development Manager for Diabetes UK Northern Ireland, said: "Nadia's mum is a member of one of our Parents Support Groups and I would urge other parents to join the group as it's encouraging to learn of other children who are also living with the condition. It is always nice to see a young person with diabetes manage their condition effectively, live a healthy life and go after whatever it is they want.
"The important thing is to ensure that your diabetes is managed effectively and you don't suffer ill health or put yourself at risk of the serious complications of diabetes."
Diabetes UK's Get Serious campaign aims to get as many people as possible to sign up and join them in the fight against diabetes. Visit www.diabetes.org.uk/GetSerious and simply add your name and email address to show your support.
Ulster Star
26/02/2010