The Knicker Lady returns to the Island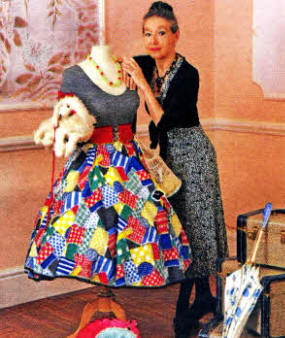 FOLLOWING on from her sell-out show at the Island Arts Centre two years ago, Rosemary Hawthorne, otherwise known as The Knicker Lady', returns to Lisburn on Saturday April 16 at 8pm.
'The Knicker Lady Returns' is a romp through the history of the humble knicker with a tempo and hilarity that leaves audiences, both male and female, spellbound and dying for more.
Surrounded by old suitcases, boxes and hat stands, Rosemary delves through two hundred and fifty years of bloomers, briefs and bustles, presenting a myriad of colourful characters that wore them, in a unique and enigmatic style of her own.
Audiences are transported back to the muslin clad elegance of Jane Austin's England, the corset bound nineteenth century, the suffragettes and daring darlings of the roaring twenties.
The one woman show, directed by Phoebe Hawthorne and Rachel Longstaff, is pure comic theatre, supported by the original music and sound design of Robin Stout.
Rosemary Hawthorne is a classically trained actress, winning a scholarship to the Royal Academy of Dramatic Art.
In addition to being a RADA medallist, she was also awarded the coveted Costume Prize... which is where it all started.
Rosemary cultivated her passion for unusual historical clothing and its sociological link to the last two centuries, becoming a well respected fashion-historian. With little being documented about the history of underwear, Rosemary emerged as a leading authority.
Her first book, 'Knickers: An Intimate Appraisal', was a huge success and became the gospel on everything from pantaloons to divided drawers and bloomers. With charismatic vivacity The Knicker Lady' scrutinises, like never before, the mighty Y-front and much, much more....there isn't a brief left unturned.
For further information or to book tickets, priced £10/£8, contact the Island Arts Centre Box Office on 028 9250 9254.
Ulster Star
02/04/2010