Moira youth facility is a 'logical' choice
by STACEY HEANEY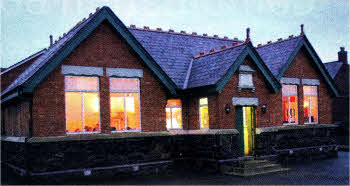 FROM residentials in Scotland to cheerleading practice and soccer tournaments, young people in the Moira area have been enjoying a host of activities and meeting new friends, thanks to The Logic Cafe in the village's Main Street.
And next month parents are being allowed to go along to an open evening to see what it's all about.
The Logic Cafe, which offers a drop-in facility to young people aged 12-18 and is a ministry of St. John's Parish Church, seeks to show "Christ's love through action" by offering activities to all young people in a fun and safe environment.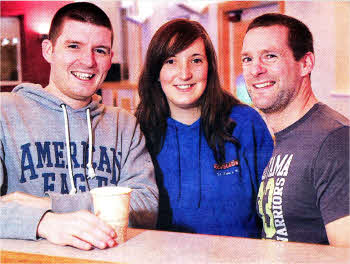 It began seven years ago and since then has thrived, attracting local teens to its activities throughout the week, including Drop-In nights on Thursdays and Fridays, a P7 Club for younger children on Monday and Friday afternoons, an After School Club on Wednesday afternoons, Midnight Football on Friday evenings and a Girls Only Club, which includes cheerleading practice each Tuesday.
The facility has created a safe environment for young people to go and have fun, meet new people and become involved in activities they may otherwise not have tried.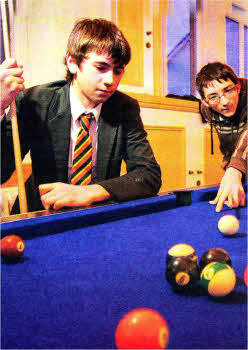 It has a strict No Alcohol' policy and refuses admission to anyone who has been drinking, or who is carrying alcohol. Development Officer Matt Peach wants parents to realise that The Logic Café is safe and well staffed - a place for young people to attend away from underage drinking or anti-social behaviour.
Many of those who attend have formed a close bond with the organisers and volunteers, so much so that they feel they can go to them in times of crisis.
Matt said: "We've even had an ambulance here when some of the young people from The Logic Café brought someone they knew to us because they knew we would help -they realised The Logic Cafe is a safe place and that we were able to deal with it."
"From time to time the police drop in on a Thursday or Friday night to have a chat and a cuppa. My message to anyone who sees a police car there is 'don't be concerned'."
Matt is encouraging parents to attend a forthcoming Open Evening at so that they can see what they have to offer.
He said: "The Open Evening is for any parent who wants to learn a bit more about us or who wants to see what we offer. The Logic Café is open to anyone between ages of 12-18 — it simply offers a bridge between the community and the Church.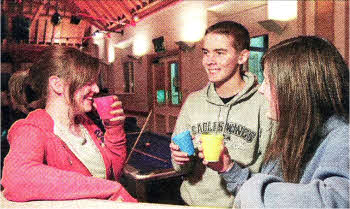 Speaking about Girls' Only nights, part time assistant youth worker Ruth Wells explained: "We have had beauty nights, film nights, Love for Life have visited to talk about relationships etc. It has just been amazing to see the number of girls who come along. We started off with five and now there are up to 20. They love that time without boys, it has given them an ownership of The Logic Café and they seem to be a lot more confident; they have opened up and developed strong relationships with the leaders."
Speaking about the impact of Logic, the PSNI's Robert Myers commented: "From a local police perspective The Logic Cafe provides a very valuable resource for the Moira community by providing activities for young people."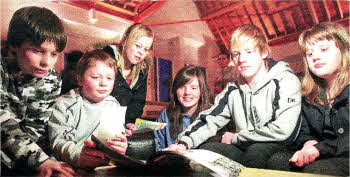 He continued: "Moira Neighbourhood Police Unit has over the years been directly involved with The Logic Café through securing funding for some of their organised activities and special events. The fact that police are present at The Logic Café regularly does not mean that the centre is a trouble spot. On the contrary, The Logic Café is a very positive initiative and local police are always made welcome.
"The Logic Café also promotes a very positive message in respect of the use of alcohol. As a police officer I know that underage drinking can pose a problem in the community. The centre does not permit people to use the facility if they have alcohol consumed and there is no alcohol permitted on the premises. This has certainly assisted Police efforts in combating this type of anti-social behaviour in the Moira area."
"I would certainly encourage any young person from the Moira area to take full advantage of the centre and the activities it provides."
* The Logic Cafe will be holding an Open Evening for parents on Wednesday February 24 from 7- 8.30pm, giving local parents the chance to see the facilities and learn more about what it has to offer. For further information telephone 9261 7136 or visit the website at www.logiccafe.org.
stacey.heaney@ulsterstar.co.uk
Ulster Star
29/01/2010