Timothy in terrific form
RACING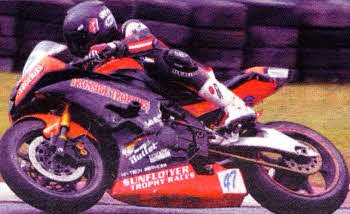 TIMOTHY Elwood was in top form last weekend on the Kirkistown Racing Circuit. The 17-year-old from Lisburn, the youngest member of the racing Elwood family, came good when his Ironside Trophies Yamaha went like clockwork as he powered to fourth place in qualifying and then first place in both the 600cc Supersport races. He also had the fastest lap in both races and won them both with a little to spare.
Timothy joined Ironside Trophies earlier this season and together with his other major sponsor Magic Bulleyt he has one of the best turned out machines in the paddock. The cosmetic preparations are the work of his dad Thomas, his uncle Colin, Stephen Johnston and friends and big thanks are due to Brian at Moto Tech for his engine tweeks. Timothy also appreciates all the help from his mum Sadie and sister Victoria. Plans to further Elwood's racing career are in the hands of Eric Lyons from Ironside. Eric has been involved with other riders over the years with a lot of success.
The plan this year is for Timothy to take in the Clubman 's series together with the odd national meeting and the odd foray to Scotland and England.
Ulster Star
14/05/2010