Health Minister gets an insight into TinyLife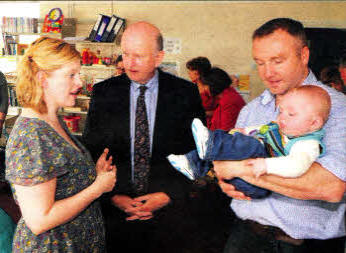 HEALTH Minister Michael McGimpsey has visited local premature baby charity, TinyLife. TinyLife, based in Carryduff, provides practical and emotional support to parents of premature and ill babies. The organisation is also committed to funding medical research into the causes of premature birth, stillbirth and miscarriage.
During his visit, the Minister met with staff and had an opportunity to speak to parents and volunteers. He said: "The birth of a premature baby is not only daunting and traumatic for parents, but can also be a time of significant stress and disruption for families. TinyLife provide a source of guidance and support which is vital for all the family.
"The organisation also carries out important research aimed at ensuring that every pregnancy has the best chance of a healthy outcome. This is of course an objective shared by my Department."
Mr McGimpsey said that his Department has been
working hard in recent years to ensure that the highest possible standard of care is provided to ensure the safety of all newborn babies, especially the most vulnerable and ill. He said: "I am committed to ensuring the delivery of
the highest quality service to mothers, families and babies, within the resources available.
"Over the past two years, I provided additional funding to improve neonatal and paediatric intensive care services. as well as to
increase nursing staff.
"My Department is currently reviewing neonatal staffing levels which will help assess the need for additional funding, and inform future decisions about service development."
Ulster Star
07/05/2010