St Joseph's Primary pupils visit Titanic Dock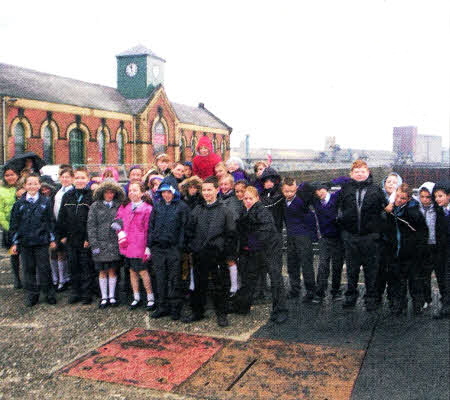 Children of St Joseph's Primary School in Lisburn visiting the Titanic's Dock and Pump House.
CHILDREN from St Joseph's Primary, Lisburn, have paid a visit to Belfast's maritime landmark site, the Titanic's Dock and Pump-House.
With RMS Titanic now in the schools' curriculum, Northern Ireland Science Park organised the trip designed a visitors' experience from which school children of all ages can benefit.
Titanic's Dock and Pump House was once the beating heart of the old shipyards during the construction of the great White Star Liners — the Britannic, Olympic and the Titanic.
When the local pupils arrived they were given a guided tour of the site where they were able to gather an understanding of the story of the dock and surrounding shipyards. Visiting the Edwardian Pump-House pupils absorbed the sounds and sights of the powerful pumps brought to life through state-of-the-art interpretative panels, archive film footage, and computer-generated imagery.
NISP Director of Corporate Real Estate and Facilities, Mervyn Watley, said: "Here at NISP we aim to provide pupils with the opportunity to develop knowledge, understanding and skills relating to engineering and shipbuilding in Northern Ireland. We are delighted that St Joseph's Primary came to visit and I hope that they learnt a lot and also had a great day out. "The whole experience is designed to help show young people the importance of science subjects and the continuity of science-based industries here over the decades."
Ulster Star
22/01/2010