Lisburn bids farewell to D Day veteran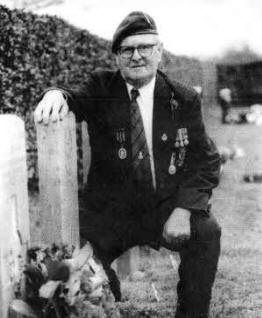 ONE of Lisburn's best known D Day veterans, Tommy Williamson, died peacefully last weekend at the age of 85. Tommy, who was born off the Donegall Road in Belfast, lived in Eglantine and joined the army as a boy soldier before his I6th birthday in I940.
He was to be one of the first soldiers to land in Normandy on D Day, June 6 I944, where he lost many friends.
Tommy was in the Royal Ulster Rifles and assigned to the First Battalion, part of the British 6th Airborne Division. He and his friends were towed in Horsa gliders from bases in England before they went into battle that day.
The gliders of his battalion landed near to Pegasus Bridge to reinforce Allied landings earlier that day.
When his battalion was involved in heavy fighting he lost many good friends.
The heavy fighting continued until the Battalion was withdrawn from the front line at the end of August.
But the war and fighting wasn't over for Tommy who was then sent to Palestine to be part of operations there. He was finally demobbed after more than six years service.
When he left the army Tommy met the love of his live, Reta. They married in May I949 and had six children and lived at Eglantine. Tommy got a job at the Burnhouse, before moving to The Ulster Foundaries. He spent many years in the Post Office before finishing his full-time working life with Lisburn Council.
A few years ago, Tommy was made an Honorary President of the Royal Irish Rangers Association in Lisburn.
Rev Canon Alex Cheevers, said: It was a privilege to have known Tommy, a modest man who was quietly proud of having served his country. He always said that he loved the army life, the comradeship and the sport as well as the good times.
"But behind those soft, quiet eyes I know there were memories of horrors and experiences that I never tried to make him talk about.
Those memories of friends lost and times past were an area of his life that I respected and did not intrude into.
All of us have cause to be grateful to Tommy and ail those others who served with him, including those who never came home from war."
Canon Cheevers continued: "Tommy also knew joys and sorrows in all his many years outside of Army life. His family gave him great pleasure and he took great pride in them. But he also knew the pain of losing his wife 1I years ago, and of losing two of their sons."
Tommy was Laid to rest at his local church Eglantine Parish Church, on Wednesday afternoon, following a well attended service in the Church there. The Service was conducted by the Rector, The Rev. Canon William Bell, assisted by the Canon Cheevers.
He is survived by four of his children, Marie, Elizabeth, Harry and Austin, his grandchildren, his sister Marie and his brother Hugh.
Ulster Star
36/02/2010