A legend of journalism passes away
Trevor Hanna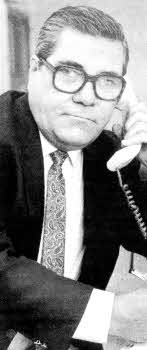 A LEADING journalist from Lisburn, whose coverage of the Province's turbulent history over more than five decades earned him worldwide recognition, has passed away.
Trevor Hanna, who was born on November 4 I936, was the consummate professional with a discerning eye for the good story and the human-interest angle.
Born on Belfast's Lisburn Road, he was educated at Ulsterville and Fane Street Public Elementary Schools and Methodist College. He was a Past President of Methody Old Boys' Association.
Trevor entered journalism in I954 as a junior reporter with the Belfast News Letter before joining the Belfast Telegraph. He served as Local Government, then Shipping Correspondent and as a Parliamentary Reporter. As Shipbuilding and Industrial Correspondent in the early I960s he chronicled the last great days of Belfast shipyard, including the construction of the P&O vessel, Canberra.
He then joined the Daily Mail in London, where he gained further experience covering major national stories in England, but returned to his native city as News Editor of the News Letter.
The father of three joined the Daily Mirror's news team when it opened an editorial office and publishing plant in Belfast and later launched his own business, Ulsternews International, which led him to work for many of the leading newspapers in Britain, Ireland and elsewhere.
One of his earliest scoops was the gallows confession of Newry labourer Robert McGladdery — the last man to be hanged for murder in Northern Ireland — to killing a I9-year-old shop assistant in I961.
As well as recording significant historical events, he produced many remarkable exclusives, including a memorable interview with US Senator Edward Kennedy on the influence of the most powerful of Irish-American families following the assassinations of his brothers, President John F and Attorney-General Robert, and a lively exchange with British Prime Minister Margaret Thatcher on the occasion of the signing of the Anglo-Irish Agreement at Hillsborough in November I985.
His revelation of an INLA plot to kill Conservative MP Airey Neave - two days before he was murdered in I979 - led to his distinction as the only journalist in British media history to receive a public apology from Scotland Yard and the Commissioner of the Metropolitan Police.
Other notable exclusives included his gripping narrative of life and death inside the Maze Prison as the only journalist to be given access to the jail during the tense weeks of the IRA hunger strikes in I98I, disclosures of terrorist gunrunning conspiracies and previously untold intelligence undercover operations and exposes of the extravagant criminal lifestyles of a number of notorious paramilitary leaders.
He also worked closely with well-known international writers and publishers and was commissioned by the acclaimed American author, Leon Uris, as a consultant for his best-selling novel, "Trinity", an historically-based fiction set in Ireland.
An accomplished broadcaster and sought-after public speak-e r, he travelled widely throughout the UK and Ireland as well as Europe, the United States of America and Canada to take part in public debates and television and radio documentaries and talk shows.
He was a media adviser to the Ulster Unionist Party where he organised its first Press Office and gained intimate insight into the workings of government through a close professional relationship with Prime Ministers Terence O'Neill and James Chichester-Clark. He was a speechwriter to several prominent politicians of the day.
He held a General Service Commission in the Territorial Army, with the rank of Captain, as Public Relations Officer of I07 (Ulster) Independent Infantry Brigade Group. He was a life member of the National Union of Journalists and the journalists' charity, the Newspaper Press Fund and a member of Belfast Harlequins and the Ulster Reform Club. A distinguished Freemason, he was an Honorary Past Grand Deacon of the Grand Lodge of Ireland, a Past Provincial Grand Steward in the Provincial Grand Lodge of Antrim, a Past Master of Press Lodge No. 432, a Past Excellent King of Prince of Wales' Own Royal Arch Chapter I54 and a member of Prince of Wales' Own Preceptory.
He is survived by his wife, Ann; two sons, Paul and Timothy; daughter, Karen; and four granddaughters, Sarah, Megan, Rebecca and Talia.
Trevor Hanna
Ulster Star
18/02/2010