Dunmurry man stands in front of digger to protect trees
by MARY MAGEE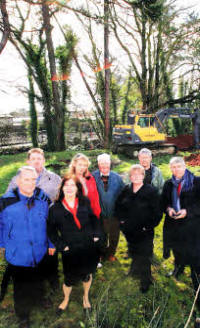 A MAN has stood in front of a digger in Dunmurry amid fears for trees which are the subject of a Tree Preservation Order. Work at The Green was haiteed on Monday morning following the dramatic protest by a local resident Trevor Ogburn.
Mr Ogburn said he noticed men working on a disused piece of land around 7.30am and feared a clump of protected trees which date back 150 years could be damaged.
So he stood in front of the digger.
He said contractors told him they were digging a hole for a new sewer pipe on the land for two new apartment blocks.
But the work was stopped while contractors and councillors intervened and contacted relevant authorities to sort out the problem.
Trevor said: "We helped get a protection order on these trees and when the diggers moved in I was concerned that roots to some of the trees could have been damaged."
Kathleen McAnespie, another resident who took part in the protest, said they got the protection order to help save the wildlife in the area.
She said local residents believe there were too many developments in the Dunmurry area getting planning permission, resulting in the loss of wildlife. "This area was once described as a leafy suburb but you only have to look around and see that this is not a leafy suburb any more," she said.
Welcome
Councillor Brian Heading, who went to the scene, added: "We welcome what the residents have done. A number of residents helped to get a protection order on these trees and if it is found that damage has been done you could be looking at a £30,000 fine."
A spokesperson for the Department for the Environment said: "A Tree Preservation Order (TPO) was confirmed on 22 August 2006 on land adjacent to 1 The Green, Dunmurry and includes the site of No 1. The Green and also the open area to the front.
"Planning Service are investigating an alleged breach of The Tree Preservation Order in The Green area of Dunmurry."
Ulster Star
26/03/2010