St Pat's pupils selected for Ulster Youth Choir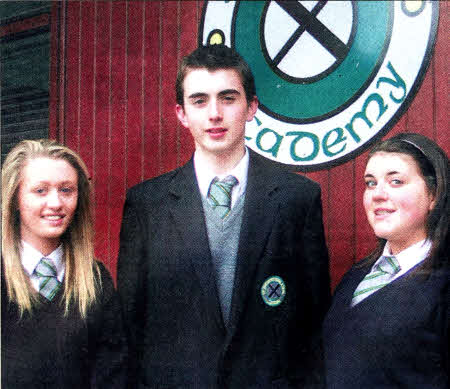 St. Patrick's Academy, Lisburn pupils Natasha Loughran, Luke Morrison and Rachel Kearney who were selected for the Ulster Youth Choir.
THERE was delight for three pupils at St. Patrick's Academy, Lisburn recently when they were chosen to sing with the Ulster Youth Choir following their performance at a workshop.
The Ulster Youth Choir runs a series of school and University workshops entitled 'Test-drive UYC' with the two-fold purpose of UYC recruiting members and for school and university choirs to have a positive, engaging and rewarding singing session with a professional conductor in a non-competitive setting. After attending St Patrick's, Rachel Kearney, Luke Morrison and Natasha Loughran were all offered places to sing together to the highest possible standards receiving training from some of the leading choral and vocal coaches from throughout the UK and Ireland.
They will also be going to a summer residential course wherein all members take part in a rigorous daily routine of physical and vocal warm-ups, sectional and tutti rehearsals, musicianship workshops, individual singing lessons and master classes.
Ulster Star
23/04/2010