Beauty student set for the seas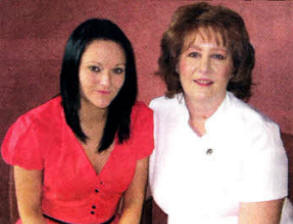 Vicky Dickson former beauty therapy student at South Eastern Regional Colleges Lisburn Campus with beauty therapy lecturer Eunice Kerr. Vicky has secured a job as beauty therapist on the Steiner Cruise ship line.
SOUTH Eastern Regional College graduate Vicky Dickson has proved she has world class skills, by being employed as a Beauty Therapist by Steiner Cruise Ships, one of the largest and most renowned Sea Spa companies in the world. Vicky, who is from Ballynahinch, began her studies at SERC Lisburn Campus in September 2007 to study Beauty Therapy Level 2. After successful completion she progressed to Level 3 which she completed in June 2009. Victoria was working throughout her training in a local beauty salon, where she acquired commercial experience. Vicky also found the college's
commercial salon gave her invaluable experience and she made a significant contribution to this class. Interviews for Steiner Cruise Ships were held in Dublin, June 2009, and Victoria was advised of her selection early in July.
For over 50 years Steiner Cruise Ships have been synonymous with quality spa and salon services, and therapists who are employed cruise all over the world while they work. The Beauty team in SERC Lisburn Campus are delighted Victoria has started on this prestigious career path and wish her every success in the future.
Ulster Star
15/01/2010