Stamp of approval sought to end village's 'ghost status'
by JENNY MONROE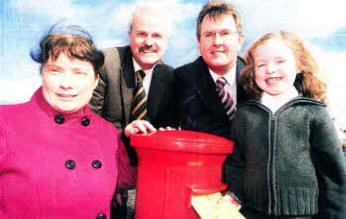 MAGHABERRY has been one of the fastest growing areas of Lisburn for several years - but as far as Royal Mail is concerned it doesn't exist.
Now it could finally cease to be a 'ghost village' if plans, to change postal addresses go ahead.
Currently homes and businesses don't have the name Maghaberry in their postal 'address. They are either Upper Ballinderry, Lisburn BT28 or Moira, Craigavon BT67.
And according to one resident it has been a recipe for confusion. When you order something the address you have to give is either Upper Ballinderry or Moira so the delivery driver can often end up miles away. It's confusing even with sat nav."
Lagan Valley MP Jeffrey Donaldson said he has been in contact with Royal Mail for some time to see if the postal addresses can be amended so the name Maghaberry can be included.
And now they are to ask local people what they think.
"Royal. Mail has now agreed to undertake a formal consultation in relation to this proposed change. The effect would be that for those households and commercial businesses that come under the BT28 postcode in the village, the postal address would change to Maghaberry, Lisburn, BT28. For those that come under the BT67 postcode, the postal address would change to Maghaberry, Craigavon, BT67. It means that the references to Upper Ballinderry and Moira would be removed from the postal address for Maghaberry village."
He continued: "I know that many residents have encountered difficulties in the past with deliveries to their address because of the omission of the name of Maghaberry village from their postal address. The proposed changes would hopefully rectify this problem.
Mr Donaldson said that as part of their consultation Royal Mail will be writing to residents in the near future to seek their views on the proposed changes. He said: "I would welcome their support and would ask (residents) to respond positively to the consultation, indicating to Royal Mail that they favour the proposed changes to the postal addresses for Maghaberry village."
Susan Kyle, Councillor Thomas Becket MP Jeffrey Donaldson and Alice Kyle in Maghaberry Village which will have a new Post Code. US1210-105A0
Ulster Star
26/03/2010