Wallace concert is a resounding success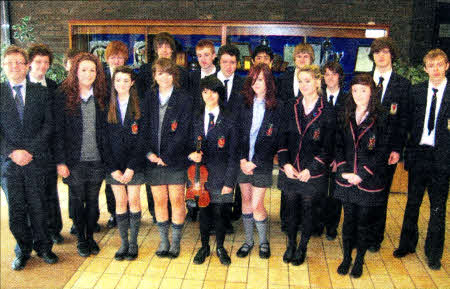 Wallace High School musicians pictured before the Spring Concert.
WALLACE High School's Capella group will be performing in Drumbeg Parish Church on Sunday (May 2) at 7.30pm, when they will sing a 50 minute concert of music from McGlynn's Fionnghuala to Weelkes' Hosanna to the Son of David.
The performance follows on from the recent success of the school's recent Spring Concert, which saw a huge variety of solo and ensemble items being performed.
From the virtuosic Great Train Race performed by Music Honours student Gareth Houston, to the stilling Capella performance of Stanford's Beati Quorum Via there was something for everyone in the enthusiastic audience.
Other items included Alex Philpot's saxophone rendition of Monk's 'Round Midnight, transforming the Cathedral into a Jazz acoustic space, while Glee fever took over as the Senior Choir, under the direction of Mr McGeown sang Don't Stop Believin. Head of Music, Mr Falconer praised the diligence and commitment shown by the students, acknowledging the hours of practice dedicated to attaining musical excellence.
Capella, which is conducted by David Falconer, can also be heard on June 26 in Armagh Cathedral before they embark on their tour to Cork.
Ulster Star
30/04/2010