Wallace get better of Campbell College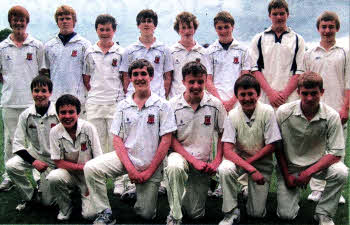 WALLACE High School cricket teams played their second round of matches last Saturday in the new and prestigious McCullough Cup Schools' League, winning the overall fixture against Campbell College by three games to two and therefore taking 18 out of a possible 34 points. The 1st X1 played at home against a good Campbell outfit and despite useful contributions from Jordan McMullan, David Scott and Chris Rowland (who all got themselves into the 20s before getting out), a total of 101 was never enough to test the powerful Campbell batting line - up who won by 8 wickets.
This result put pressure on the junior sides to win as the 1st X1 fixture is worth 14 points in the new league set up. Fortunately the under 15, 14 and 13 teams obliged, all three winning their matches and putting in tremendous displays.
The under 15 batsmen continued their worrying trend of getting starts before getting out, captain James McCallan top scoring with 17, but their bowling and fielding was then top drawer as they defended their total of 88 comfortably. Pick of the bowlers was Robin Walsh who took 4 - 11, whilst opening bowler Mark Hylands deserves credit for bowling 5 overs and only conceding 3 runs.
Also away to Campbell, the under 14s produced a fine overall team display to win relatively easily against their respected opponents, whilst the under 13s won by 55 runs in their home fixture. Batting stars of the show in this game were Philip Hylands (27), Daniel Ballantyne (47) and Ryan Getty (30), while on the bowling front Ballantyne (4 - 20), Hylands (3 - 13) and Sean Murray (2 - 13) performed well to defend their score.
The under 12s played Campbell on Friday at the Clonevin Oval and were unlucky to lose by two runs in a real thriller of a game. The Wallace bowlers restricted Campbell to 66 runs, Adam Heaps the star of the show with 4 for 8. Nathan Cartmill then put bat to ball in the Wallace innings, smashing a superb 28, but his dismissal left too much for the other batsmen to do and that two run defeat.
Overall the Wallace coaching staff will be happy with their weekends work which keeps them very much in the frame for a top finish in this new league. This Saturday sees the third round of league action against Ballyclare High School with the under 15 and 14 teams at home (9am start) and the Ist X1 and under 13s travelling to their opponents. The under 12s play their league game on Friday.
Ulster Star
14/05/2010