Wallace pupils return from German conference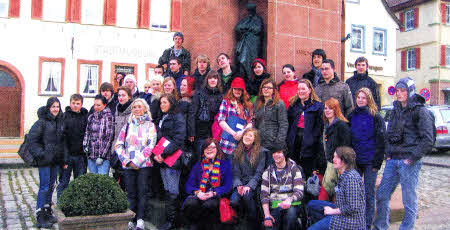 The group from Wallace High school with representatives from the other schools involved in the Comenius conference in Germany - JohannesKeuler-Gynasiumn (Germany) and 0le Vig videregaende skole (Norway).
PUPILS FROM Wallace High School recently returned from their final Comenius conference in Germany. After a very successful visit to Norway last October it was the final chance to see all the friends they had made and present the PDA tourist device that each group had been' working on as part of the project.
The other schools involved were Johannes-Kepler-Gynasiumn (Germany) and Ole Vig videregdende skole (Norway). Eleven pupils and teachers Ms Grace Bill and Ms Pam Brown visited JohannesKepler-Gynasium, Well Der Stadt and received a warm welcome from the Robotics club before being given a tour of the school, followed by an interesting morning walking through Weil Der Stadt and enjoying the sights of the town, including a reception with the Mayor, the carnival museum and a walk around the town walls.
Chance
The group had the chance to make (and eat) pretzels at a local bakery. The students enjoyed a night playing billiards and eating some traditional German food at a nearby restaurant.
The groups then presented their projects. The Wallace and Norwegian students give
a brief description of what they had included on their PDA and explained what they had achieved from the scheme. The German students took the visitors on a tour of Weil Der Stadt to show how their PDA worked before they all enjoyed an evening in the nearby city of Stuttgart. The final day was completed with a party at the school, as everyone enjoyed some traditional German food and the Northern Irish students' rendition of 'I'll tell me Ma' 'The Belle of Belfast city.' Everyone was sad to say goodbye to the friends they had made over the• last two years but they all hope to remain in touch and meet again soon.
Ulster Star
26/03/2010