Wallace kick off campaign against Omagh at home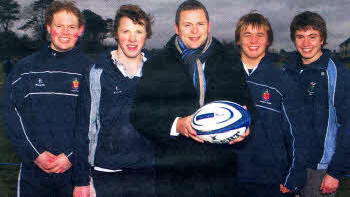 WALLACE High School 1stXV enter the Schools Cup 4th Round on Saturday as a top eight seeded school. They entertain Omagh Academy in what promises to be a gruelling tense encounter at Wallace with an 1I.00am start.
Omagh came through a replay by I3-6 after a I0-I0 draw against Co.Tyrone derby rivals The Royal School Dungannon. There set piece and forwards dominated proceedings in the replay and Wallace will have to be at their best to get through to the quarter finals.
Wallace have close to a full squad to call on with only Connor Saunders and Darryl Corbett unavailable. The squad is: Kyle McCall (capt.), Rory Stewart, Chris Spence, Colin Munn, Chris Taylor, Chris Hodgkinson, Stewart Evans, Daniel Henry, Jamie Clements, Ross Irwin, Jordan McMullan, Ben Mewha, Alastair McCollum, Matthew Godfrey, Colin Matthews, Nathan Reid, Adam Hanley, Andrew Gilmore, David Scott, Jack Connan, Jordan Heatley and Alan Wallwin.
Last Saturday Wallace had four fixtures which beat the snow and frost at Coleraine Inst.
The Medallion A put in a competent performance winning by 22-3 while the U14A also won by 36-12.
Wallace UI3A and B sides battled the snow and frost and travelled to Coleraine Inst on Saturday morning. In the UI3 A game, both sides started well trading blow for blow in difficult conditions. Wallace eventually opened the scoring when Ben Pentland turned over Coleraine ball on his own line before racing the full length of the pitch to score.
A second score soon followed with an excellent break away from Gary Chan who managed to off load to Connor Guiney in support to dot down under the posts. A Coleraine penalty reduced the lead to I0 - 3 before half time. In the second half Coleraine continued to surge forward but the Wallace defence stood firm. Two further scores from Pentland and Sam Moore left the final score at 22-3.
Connor Guiney and Paddy Ferguson shared the man of the match award whilst Jonny Whan picked up the hit of the day.
In the UI3B game from the start it was clear that there wouldn't be much to separate the two evenly matched teams. In the end it took two excellent pieces of individual skill one an intercept from Phillip Hylands and another from Andrew Cardosi who followed up on his own grubber kick to score, to settle the game. A Cardosi conversion left the final score at I2 - I0. Phillip Hylands picked up man of the match whilst Andrew White picked up hit of the day.
The UI2A threw away a I0 point lead against Regent House in the final moments of the game. After some early excellent defence and attacking play Wallace missed crucial tackles. For Wallace Adam McCallum, Ben Finlay, Josh Magill and Michael Smyth were superb. The try scorers were Ben Finlay and Adam McCallan.
The UI2B XV drew 12-I2 with Regent with Michael Downey and Neil Stewart getting the tries. Ross Portis got the conversion, while the UI2C team lost by 30-0.
Ulster Star
05/02/02