Defence minister pledges to act after meeting war widow
`Room for improvement' in support of families says Ainsworth
by JULIE ANN SPENCE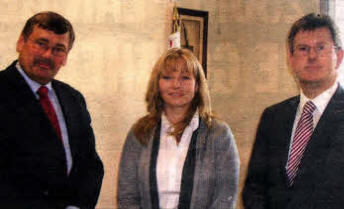 DEFENCE Secretary Bob Ainsworth, has admitted there is room for improvement in the support the families of soldiers killed in action receive and has pledged to take action after meeting with Dromara war widow Brenda Hale.
Mrs Hale went to London to meet Mr Ainsworth and convey her distress at the lack of support her family received following the tragic death of her husband, Captain Mark Hale, in Afghanistan last year.
Speaking to the Star last week Mrs Hale said she felt she and her daughters had been "abandoned" by the MoD following her husband's death.
After meeting with Mrs Hale, the Defence Secretary said he was committed to improving the current support system. "I am very sorry for Mrs Hale's loss," said Mr Ainsworth. "The support we provide to bereaved families is vital. Mrs Hale was kind enough to meet with me to discuss the concerns she has about the support this department provides to military families.
"When we met she made a number of valuable and insightful suggestions we will now look at — there is room for improvement and I am committed to taking action where necessary."
Mrs Hale said she was pleased with the commitment from Mr Ainsworth. "I welcome the fact the MoD recognises the need to review how they are supporting widows and dependants," she said.
"I truly hope that no-one has to experience what we have been through and I look forward to hearing the outcome."
Lagan Valley MLA Jeffrey Donaldson, who arranged thge meeting, also welcomed the Minister's comments.
"He has given and his commitment to a review of the process that failed Brenda and her fami- ly," said Mr Donaldson.
'It is vital that lessons are learned from this and that no other family is to be subjected to the difficulties Brenda suffered during the recent months following the tragic death of Mark."
Mr Donaldson concluded: "The MoD must ensure the highest priority is given to supporting families whose loved ones are killed in action. They are fighting for our country and their families deserve the highest level of support and welfare from our government."
julieann.spence@ulsterstar.co.uk
Ulster Star
30/04/2010