Local MLA backs Wear Red Day to promote National Heart month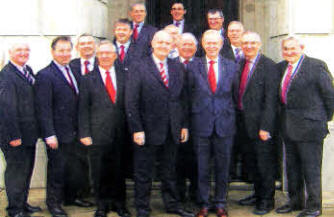 LAGAN Valley MLA Basil McCrea has joined other members of the Ulster Unionist Party to promote the British Heart Foundation's National Heart Month, asking local constituents to participate in National Wear Red Day and promote awareness of heart and circulatory disease.
Commenting on the campaign, Mr McCrea said; "February 26th is National Wear Red Day and I would urge constituents to come on board and show support for this very worthwhile drive.
"Our health is so important, but we often take it for granted. We need to be aware and proactive in taking care of ourselves. This is where the 'Beat Code' comes in - Be Active -Eat Healthily - Avoid smoking and Take the lifestyle check. This is the type of pioneering I work the BHF undertakes."
Wearing red to support the campaign the UUP Health Minister, Michael McGimpsey, added; "Along with the Department of the Health, local charities lead the way when it comes to promoting the importance of healthy lifestyles and I would commend the BHF for all their continued work and support.
"It is essential that we pay attention to our diets with the recommended 'five-a-day' playing an essential part of a balanced and nutritious diet. Exercise is also vital - this can be a simple walk to the shops or a gym workout. The important message is to take small steps to improve your overall health. So use the 'BEAT Code' - take the steps to a healthier lifestyle."
You can take the free online lifestyle check at www.bhf.org.uk.
Ulster Star
19/02/2010