VC hero honoured by Lisburn wasn't from the city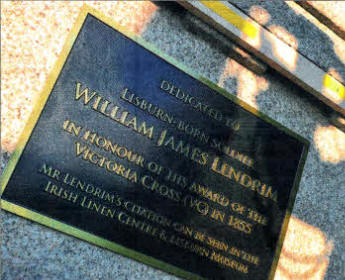 A DESCENDANT of a war hero honoured by Lisburn City Council has said she is delighted the city has honoured her ancestor - but has told them he wasn't actually born in the city.
Last year Lisburn Council paid tribute William Lendrim, who was awarded the Victoria Cross for his bravery during the Crimean War, with the unveiling of a VC plaque at the Nicholson Memorial in the city centre. At the time it was believed Mr Lendrim was born here.
However Dr Marion Shephard, the great great granddaughter of the VC holder, has revealed it was actually Mr Lendrim's father who was from Lisburn. As a result the Council, in conjunction with the Irish Linen Centre and Lisburn Museum, are in the process of altering the wording on the memorial plaque to reflect the new information. Dr Shephard has been researching her famous ancestor for many years. "William James Lendrim VC's father was also named William Lendrim (c18061880)," explained Dr Shephard. "It was William Lendrim Senior who came from Lisburn. He was also a soldier and his children were born in the various places where he was stationed. His second child, William James Lendrim, (later the VC holder) was born in Carrick on Shannon in 1830.
"I am delighted that Lisburn should honour William James, since Lisburn was the original home of the Lendrim family. Here in England he has a street named after him and a troop of soldiers. In the Second World War a troop train was named after him and many books recount his exploits, notably 'The Sapper VCs' by Gerald Napier."
Dr Shephard is keen to hear from anyone with any information about the Lendrim family, and is particularly interested in finding out where exactly in Lisburn the family lived.
A spokesperson from Lisburn City Council said they were "delighted" to hear from Dr Shephard and were currently in the process of amending the wording on the memorial plaque.
"As well as providing any available information to the family, the Council also extended an open invitation for the family to visit the memorial to their great, great grandfather," said the spokesperson.
"Following feedback, the Council is currently in the process of amending the VC plaque at the Nicholson Memorial."
julieann.spence@ulsterstar.co.uk
Ulster Star
29/01/2010