Take a step back in time and
celebrate 30 years of Action MS fundraising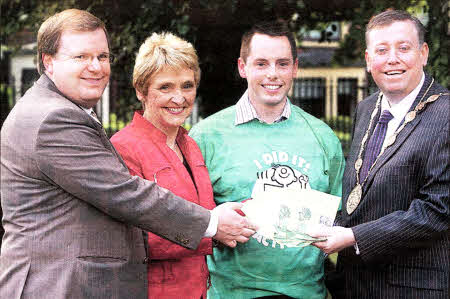 Councillor Jonathan Craig, Ann Walker Action MS, Nigel McConnell and Lisburn Mayor Paul Porter launch a series of Walk For MS events to celebrate 30 years of walking- Action MS are inviting the people of Lisburn to join them at Belvoir Forest Park on Saturday October 2 to raise vital funds and awareness for the charity.
US3510-107A0
LISBURN people are being invited to take a walk down memory lane for Action MS as the charity celebrates 30 years of their Walk for MS events. Over those three decades thousands of people took part in the walks while they were pupils at local schools.
Now Action MS is inviting them, and those who may have missed out when they were younger, to get on their walking shoes and step out for the charity on Saturday October 2 in Belvoir Forest Park starting at 1.00pm.
Speaking at a practice walk in Wallace Park last week, Ann Walker Chief Executive and founding member of Action MS said: "Lisburn schools really got on board with the Walk for MS and in those early days many of the parents joined us for a Saturday afternoon walk at Belvoir Forest Park. The celebratory 'Walk for MS' will be a walk down memory lane and we are inviting the children from yesteryear to come along with their children and grandchildren to once again take steps in support of a worthy cause."
One local man who will be revisiting his schooldays when he joins the walk on October 2 is Dr Nigel McConnell, who first took part in a Walk for MS as a pupil at Lisnagarvey High School.
Nigel said: "I always really enjoyed getting out of school for the morning's walk and we all tried to raise as much money as possible so that we might get along to the Action MS Thank You Luncheon each year."
Nigel later volunteered on the Action MS Medicare Breaks, which provide respite holidays for those living with MS who would not otherwise get a break. It was on his first Medicare Break that Nigel also met his future wife Alison Bell, an Occupational Therapist.
He explained: "Alison and I had both taken part in Walks for MS with our secondary schools and then volunteered on one of the Action MS Medicare Breaks in Summer 2002. We met and kept in touch, volunteering on five Medicare Breaks during our student years, before marrying last year.
"I hope that hundreds turn out to walk in aid of a local charity that ensures all money raised here will stay in the province to support people with MS."
The Mayor, Alderman Porter added: "Action MS are here to help those living with MS in the Lisburn area through their local befriending scheme and focus group, the NewB's. During my term as Mayor I want to promote the importance of volunteering within our communities."
Ann Walker concluded: "So far the 'Walk for MS' fundraisers have clocked up more than a million miles. We want to say 'Thank You' to all those who have supported the event over the years and at the same time encourage a new generation to get involved and to start walking for MS."
Entry forms and full details for the walk are now available from Heather Lundy at Action MS, Knockbracken Healthcare Park, Saintfield Road, Belfast Tel 907 907 07 or you can enter online now at www.actionms.co.uk.
stacey-heaney@ulsterstar.co.uk
Ulster Star
10/09/2010