Council opens a book of condolence for snooker legend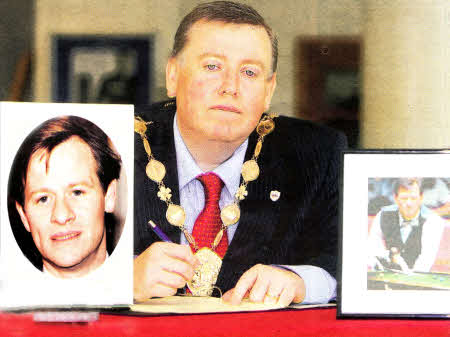 The Mayor, Alderman Paul Porter, signs the book of condolence at Lagan Valley lsland in memory of the late Alex Higgins
LISBURN City Council has I opened a book of condolence for snooker legend Alex 'Hurricane' Higgins who passed away last weekend. The former world champion lived in Lisburn for a time several years ago and the Mayor' Alderman Paul Porter, led tributes to the sporting great.
"It is fitting that the Council gives local people the opportunity to honour a famous past resident of our City. He was one of the great characters of snooker and added an element of entertainment to the sport" he said.
"His colourful character attracted many people to snooker who previously would not have been interested. Despite being World Champion twice' his life was not without trouble or challenge' but Alex Higgins was an extremely talented and naturally gifted snooker player who will be fondly remembered worldwide.
"This book of condolence is one of many that have opened up around the Province for people to pay tribute."
Councillor Andrew Ewing also paid tribute to the snooker legend.
"My father was born and brought up in Sandy Row, just around the corner from the Donegall Road' and he certainly remembers Alex in the early years as a young boy playing in a snooker club called the Jampot against much older players for money and winning consistently," he said. "My father met him in the early nineties at an exhibition match and they enjoyed a chat and were reminiscing about the old days growing up in the Sandy Row/Donegall Road area.
"It is very sad to see how Alex fell on hard times both healthwise and financially in recent years and he had his own fair share of controversy, however it is important to remember him for the enjoyment he brought to people across the world and his place is certainly secured in history as one of Northern Ireland's sporting legends."
The book of condolence is based in the main reception of Lagan Valley Island and will remain until Friday' August 27.
---
Fond memories of the Hurricane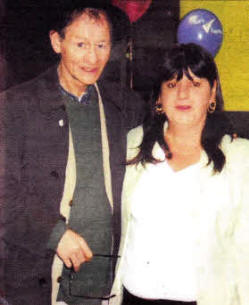 A LISBURN grandmother has paid tribute to snooker legend Alex Hurricane Higgins' who passed away at the weekend.
Margaret Gibson met the sports star last year when he donated items to be auctioned off to raise money for Parkview Special School.
"My grandson, Jordan Maxwell' is a student at Parkview and we decided to hold a fundraising night to raise money so that the school could buy a new toy kitchen'" explained Mrs Gibson.
"I happened to be at Stranmillis Boat Club one night and saw Mr Higgins there. My friends told me not to go up to him but I thought I would ask anyway. I asked if I could speak to him and explained about the fundraiser. He was very approachable and said he would give me something to auction.
He gave me a US army watch and penknife. I aIso got my photograph taken with him and we auctioned that as well. He was very generous and it all went to a very good cause.
"People seem to put him down a lot but when I spoke to him he was a very nice man'" she added.
Ulster Star
30/07/2010