Alison receives top Girlguiding Award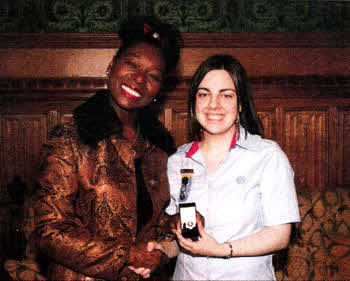 LISBURN woman Alison Pollock has shown she is leading the way after receiving Girlguiding UK's top accolade, the coveted Queen's Guide Award.
The award was presented to 23-year-old Alison by Girlguiding UK Chief Guide Liz Burnley at a special ceremony at the House of Lords in London.
Recipients of the award also got the chance to meet Baroness Floella Benjamin who was on hand to offer her congratulations at the event. Around 30 young women from across the UK joined Alison in receiving the coveted award. It sees participants take the lead in a number areas including developing a personal skill, working within pioneering community action projects and overseeing ambitious outdoor pursuits.
Alison, whose Queen's Guide achievements included attending an international camp in the Netherlands and raising money for the Woodland Trust, said: The highlight of my Queen's Guide Award was my exploration in London to visit all the places on a Monopoly board. This trip involved planning and organising travel, accommodation and our route in London. I really enjoyed the trip and seeing the sights."
Liz Burnley added: Over the years the Queen's Guide Award has given many young women an
amazing sense of empowerment and confidence within a girl-only space, particularly at a time when they are making serious life choices - such as career direction - which ultimately shape their future.
"The presentation itself is a very special event, and something recipients will remember forever."
Ulster Star
10/12/2010