Beat that! Allister rolls over another drumming record
by JULIE ANN SPENCE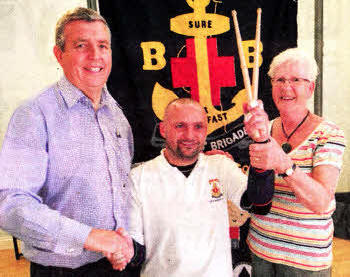 L1SBURN man Allister Brown drummed his way in to the Record Books for the second time last week after beating the world record for the longest drum roll.
Allister, who previously broke the world record for solo drumming, spent Saturday aiming to enter the record books for a second time, as well as raising funds for local charities including Cystic Fibrosis Trust, Care for the Family and the Boys Brigade.
And after six hours of non-stop drum roll a delighted Allister broke the record by 40 minutes and now just has to wait for the official verification from Guiness World Records. "I couldn't believe how quickly the record went'" said Allister. "It felt like I had only played for half the time.
The support was great and my stewards made sure everything went according to plan. They were especially helpful as I wasn't allowed to stop rolling therefore food and drinks had to fed to me by others. "There were a few technical hiccups at the start and made my start time run late, putting ideas in my head about whether it was a good thing or not to be attempting this record. "Thirty minutes into the record my hands went numb and cramped up but I think that did me a favour in keeping the sticks in my hands for the rest of the record and all I had to do really was keep the rhythm going."
Allister thanked everyone who supported him during the attempt and is thrilled to have raised in the region of £500 for charity.
"Thanks should go out to 1st lisburn BB and Railway Street Church'" he said. Also thanks to Music Matters for their continued support and to Lisburn City Council and the Mayor. "I would also like to thank the charities CF and Care for the family. And lastly' thanks to my friends and family who have always been behind me in any event I do."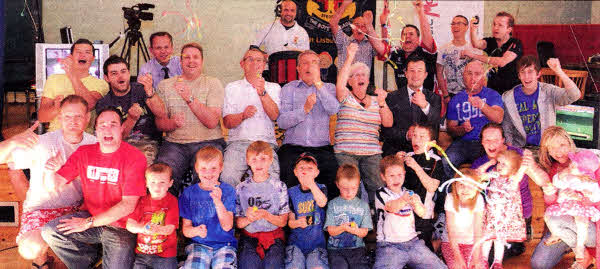 After 5 hours and 20 minutes of non-stop drumming Allister's supporters cheer and poppers pop as he breaks the Guinness World Record for the longest individual drum roll.
julieann.spence@ulsterstar.co.uk
Ulster Star
25/06/2010