Allister drumming up support to prove he can `Make it at Bushmills'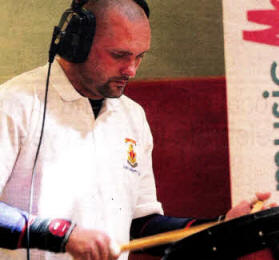 LOCAL world record breaking drummer Allister Brown is taking on a very different challenge this summer - and he is hoping to drum up enough support to prove that he can 'Make it at Bushmills'.
Allister, who recently broke the world record for the longest solo drum roll, has made it to Northern Ireland final of a competition which will see the winner take a look behind the scenes at the Bushmills Distillery, where they will even get to distil their own whiskey.
This year the Bushmills Master Distiller Colum Egan is offering to share his unique life in Bushmills for 30 days. This global opportunity will see one person spend 30 days at the heart of the area and community that was granted a licence to distil in 1608.
If they can prove to Colum that they have captured the special Bushmills way of life and 'Make it at Bushmills', then at the end of their 30 days, they will get to be the first ever person outside of the distillery to create their own blend of Bushmills Irish Whiskey.
Allister found out about the competition online and had to submit a video to explain why he thought he should be the winner.
It was a challenge for me," he explained. In my video entry I talked about the world record attempts and said that if it was dedication they needed then I was the man for the job."
The local man is one of ten people in Northern Ireland competing to represent the country at the Bushmills Bushcamp. There the local winner will join other winners from all over the world to compete for the ultimate prize, which will also include £5,000 and a luxury penthouse apartment for 30 days.
Allister needs local people to support him by registering their vote on the Bushmills Facebook page. Log o n t o www.facebook.com/Bushmills1608 and click the 'Vote for me' link.
julieann.spence@ulsterstar.co.uk
Ulster Star
16/07/2010