Cheers! Allister proves he can 'make it at Bushmills'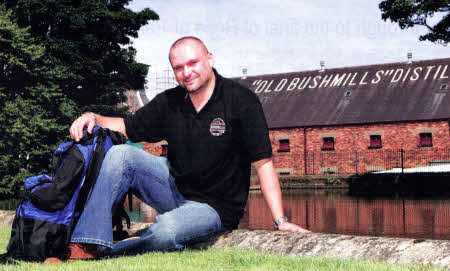 Allister Brown pays a visit to Bushmills Distillery.
ALLISTER Brown, a 33-year engineer from Lisburn, has been chosen to represent Northern Ireland in the international finals of a Bushmills Irish Whiskey competition that has attracted the interest of tens of thousands of people around the globe.
Allister will be competing for their chance of glory in the 'Make it at Bushmills' finals later this month against eight rivals from the United Kingdom, Republic of Ireland, the United States, South Africa, France, Belgium, the Netherlands and Bulgaria. The overall winner will be announced on Thursday August 26 at an awards dinner in the village of Bushmills.
The line-up for the finals was decided by votes, cast by members of the public on Facebook, for the hundreds of contenders who originally entered the competition. Launched in the New York Stock Exchange on St Patrick's Day, the competitaon offers a prize of a 30 day stay in Bushmills, a chance to be the first person ever from outside the distillery staff to create a new blend of one of the world's most famous Irish whiskeys, a month's luxury penthouse accommodation and £5,000 spending money.
The overall winner will be selected following a two-day 'Bushcamp' later this month when contestants will face the Master's Challenge — a test of skills set by Bushmills' Colum Egan. The performance of the contenders will be judged by a panel that includes Irish rugby legend, Keith Wood, Rob Allanson, editor of Whisky magazine and Foy Vance, the Irish singer-songwriter. Allister got the call last Friday to tell him he had been voted as the Northern Ireland winner. "I was a wee bit shocked," he said. "I was told I had done very well with the voting but I don't know how many votes I got.
"I know I got votes from all over the place. I was torturing everybody to vote for me. I think they are just glad they don't have to vote anymore!"
Allister is now looking forward to the Bushcamp next week, when he will compete against eight other contestants from as far away as America and South Africa, for the ultimate prize.
"I have no idea what I have to do during the camp'" he continued. "There are a series of challenges set by the Chief Distiller. I have been trying to brush up on my knowledge of whiskey."
The finalists' progress at Bushcamp will be charted on-line from August 25 -26 at the Bushmills Facebook page - www.facebook.com/bushmills1608.
Ulster Star
20/08/2010