Amy braves the cold to prove she's got talent
by JENNY MONROE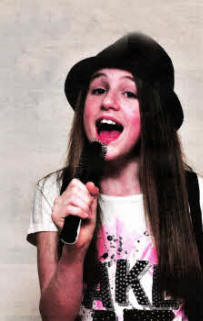 A LISBURN schoolgirl is so determined to become an entertainer that she stood in the bitter cold in Cardiff for her chance to audition for the hit prime-time show Britain's Got Talent.
11-year-old Amy Montgomery flew into Wales with her mother Christine just to take part in the initial auditions with other wannabe celebrities last weekend.
The Wallace High School pupil stood for hours outside the Mercure hotel, where Britain's Got Talent staff math sure that the queues moved as quickly a; possible as the temperatures nearly hit zero with ice and snow.
Dressed in a specially bought T-shirt, Am} hopes to be a star one day. The talented young girl's voice has even been captured b} the Young Enterprise team at her school who have produced a CD of her songs.
Speaking about her experience Amy said "I've always wanted to be a singer, and I came 12th in a talent show."
The Britain's Got Talent auditions don't come to Ireland, so we had to come to Cardiff."
"I'm really excited to audition," she added. During her audition Amy sang 'Hey soul sister'. Her mother Christine said the producer gave her good feedback. "The producer said she has a very mature voice for her age and that it was obvious she likes performing.
"She showed no nerves and I was very proud of her."
Christine said it's now just a case of wait one see and they have their fingers crossed for z call back to the next stage of the auditions.
Ulster Star
03/12/2010