Parents inspired to raise money for deaf charity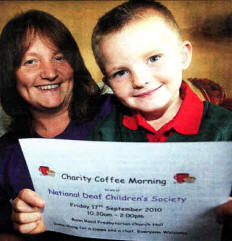 FOUR-year-old Andrew Harron is just like any other young schoolboy.
Excited about starting P1, Andrew began his first days of school at Dromore Central Primary last week.
Andrew, who is described as having a 'fighting spirit', has been profoundly deaf since birth and has depended on artificial hearing for the past two years when he was fitted with a bionic ear. He was fitted with cochlear implants - an artificial hearing device which allows him to hear the sensation of sounds by electrically stimulating the auditory nerve. The implants have not only boosted Andrew's confidence but has helped improve his hearing abilities and speech.
Because of the help and support his mother and father, Norma and Richard from Blackskull Dromore, have had from the National Deaf Children's Society they want to try and repay them with a series of fund raising events, the first of which is today (Friday) with a coffee morning at Banbridge Road Presbyterian Church in Dromore from 10.30am to 2.00pm.
Norma and Richard, who have two other children Abby 7 and Ben 8, will be running the London Marathon next year on behalf of the charity.
"We have not run since we were at school but we wanted to do something because we are only too aware of the challenges that Andrew has to face all the time and it was our way to also face challenges as well as raising money for the charity."
Born at Craigavon Area Hospital in February 2006, Andrew was diagnosed as being profoundly deaf when he was just a six weeks old. At three months Andrew was fitted with a hearing aid. For the next few years he underwent a series of assessments, CAT scans and tests before consuiteants at Belfast City Hospital opted him to have the four hour operation to install the cochlear implants to improve his hearing. For Andrew it has changed his life.
"When Andrew talked I could not understand what he was trying to say and he could not understand me and he got very frustrated and would start to throw tantrums," explained Norma.
"Before Andrew could only say the likes of 'mum' and 'no' but now he attempts to put sentences together," said Norma.
"I feel that it has given the boost that he needs and it will help him lead a more fulftlling life and be accepted in the hearing world."
Ulster Star
17/09/2010